Podcast: Play in new window | Download | Embed
Subscribe: Apple Podcasts | RSS
Podcast Part 1 of 2-In this two-part series, Oscar and I give you an inside look into the life of a Police Motorcycle Officer. Both Oscar and I are full-time Police Motor Officers. Of course, in our off time is when we create all the content for Law Abiding Biker™ Media, Inc.
We get into great detail about Police Motor Officer initial training schools and ongoing training. We discuss riding equipment and our thoughts on the different motorcycles used by different departments. I am assigned a Harley-Davidson Electra Glide Police Motorcycle, while Oscar is assigned  Honda ST 1300 Police Motorcycle. We give you the pros and cons for both and I have trained on both.

Not all Police Motor Officer training is the same. I am very blessed and get the best of initial and ongoing motorcycle training and get to compete. Oscar also gets great initial and ongoing training and will hopefully compete next year. There are departments that get very little initial Police Motorcycle Training and lack ongoing training, which is very dangerous in my opinion.
If you ever wanted to know all about Police Motor Officers from the perspective of two actual Motor Officers, then this is a must listen to episode.
Sponsor-Ciro 3D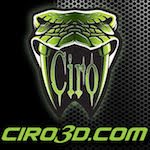 Innovative products for Harley-Davidson
Affordable chrome, lighting, and comfort products
Ciro 3D has a passion for design and innovation
New Patrons:
Christopher Ray Wood of Elsinore, Missouri
Joseph Dempsey of Dana Point, CA
Channing Rankin of Longview, TX