Podcast: Play in new window | Download | Embed
Subscribe: Apple Podcasts | RSS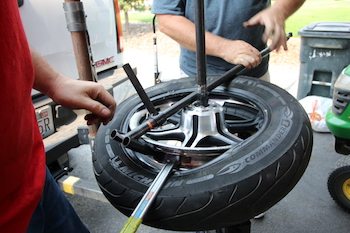 Podcast-Matt "Lurch" Couchman and Brian White spent the day in the Law Abiding Biker (LAB) garage filming a new video for you all! Rick "Big Daddy" Kane wanted to change from spoked wheels to cast aluminum on his 2001 Harley Road King. He had good tires and we just needed to get them off the old rims and onto the new ones.

Using a really cool manual tire changing station and manual dynamic wheel balancer, we were able to do everything ourselves right in the LAB garage. We talk about the tire changing station and balancer and talk about what we learned. We give some great tips and tricks.

We also filmed the install of new wheel bearings into the new cast aluminum wheel. We talk about the techniques we used since we didn't have a bearing press.
Make sure you're subscribed to our YouTube Channel, so you know when these free videos are released!
Note: We already have free videos on how to remove your front and rear wheel from your Harley-Davidson motorcycle.
VIDEOS OF INTEREST:
NEW FREE VIDEO RELEASE:
Sponsor-Ciro 3D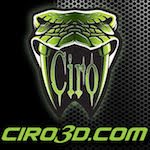 Innovative products for Harley-Davidson
Affordable chrome, lighting, and comfort products
Ciro 3D has a passion for design and innovation
New Patrons:
David Priem of Chanhassen, MN
Cliff Smith of Omak, WA
Dan Stearns of Kelso, WA
Tarp Elites of Woodstock, GA
Randy Stewart of Las Cruces, NM
Bob Dawson of YAKIMA, WA
Jason Baty of Palmer, AK


George Bachmeier of Lake Havasu City, AZ
Gregory Chahil of Brownstown, MI
Kelli Hopkins of Waynesboro, VA
Ronald Richter of Dortmund, Germany
Michael Skubal of Pewaukee, WI
Dewain Kozak