Podcast: Play in new window | Download | Embed
Subscribe: Apple Podcasts | RSS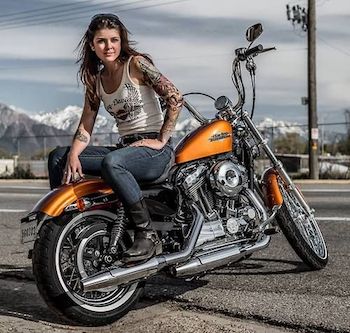 Smaller Harley rider? This episode is a result of a voicemail we got from listener Stephanie Crabtree of Kansas City, Missouri. She asked about Harley's and smaller rider issues, mainly females. She wanted to know what would be a good Harley for her at 5-03 and 120 lbs. She wanted our opinions on this issue and that's exactly what we give in this episode.  This begs the question-does size matter? Yah, I said it.  Stephanie also wanted to know about females in a club setting and whether she should join one, so we touch on that too.

The size of Harley you purchase is often determined by your riding experience and not size necessarily, as some modifications to the larger models can be made. We'll talk about that later. Our suggestion for a newer smaller Harley rider is the Street or Sportster models as they are smaller, lighter, and cost less. You could move into one of the smaller Softail models from there.
I will say that even if you're a smaller Harley rider, you shouldn't be scared off by the bigger Harley touring models. If you use proper riding and control techniques, you can easily handle a larger bike. Size doesn't really matter that much when controlling a motorcycle. Being bigger will help you if you have to lift the motorcycle after dropping it though.

Jumping on a bigger taller bike can be a challenge for a smaller Harley rider when it comes to stopping and touching the ground. Some modifications can be made to the motorcycle such as lower rear shocks and a lower profile seat. You can certainly drop inches doing these mods. You could also wear boots with thicker type soles, thus adding inches of reach. These are just a few tricks. Be careful not to go to the extreme with the Harley mods or you'll lose the rideability of the bike.
This article is just a glimpse into some of the information we reveal in this podcast episode, so you'll need to listen in for the rest. We also give our opinions on whether or not Stephanie should join a motorcycle club and what type.
New Free Video:
Sponsor-Ciro 3D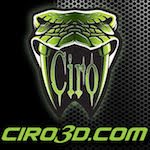 Innovative products for Harley-Davidson
Affordable chrome, lighting, and comfort products
Ciro 3D has a passion for design and innovation
Sponsor-RickRak

The Ultimate Motorcycle Luggage Rack Solution
Forget those messy straps and bungee cords
Go strapless with a RickRak quick attach luggage system & quality bag
New Patrons:
Jim Coody 

Matt Carter of Casper, WY

Scott Gilliland of Springfield, OH

William Coleman of Killeen, TX

Joshua Ross of Albuquerque, NM

Nick Groetsema of Waldwick, NJ

Keith Mapes of Warren, Michigan

Jonathan Pauley of Battle Creek, Michigan

Ellis H Shore of Lewiston, ID


Johanna White

Kevin Odom

Dennis DeCaprio of MtHolly Springs, PA

Briana Kennedy

Jesse Roche

Monte Lamar of Benton, Kansas