Podcast: Play in new window | Download | Embed
Subscribe: Apple Podcasts | RSS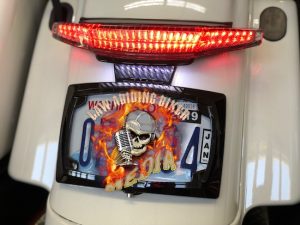 We spent the day installing a Ciro 3D Latitude Tail Light & License Plate Holder on two newer Harley-Davidsons. Of course, we filmed a detailed tutorial video, which will be released on our YouTube Channel, so make sure you're subscribed. This way you'll be notified when we release this and other awesome videos!

In this episode, we talk in detail about this new Harley tail light and license plate holder setup from Ciro 3D. After spending the day handling and installing this product, we can definitely say that we were very impressed. The quality alone is worth mentioning and the look is just awesome. This is just another example of why we give Ciro 3D products our stamp of approval and carry them right in the Law Abiding Biker Store!
This product would be a great addition to your Harley Street Glide, Road Glide, Street Glide Special, Road Glide Special, Road King Special! Get further fitment and pricing here.
The Ciro 3D Latitude Tail Light & License Plate Holder is a brand new and dramatic way to customize the rear fender on your Harley-Davidson. The plug and play light replaces the entire OEM lighting assembly with an LED run, turn, and brake light. Also included, is a unique license plate mount with hidden fasteners to transform the rear end of your bike. The kit comes in chrome or black!

There is no doubt that after watching our tutorial video, you'll be able to install the Ciro 3D Latitude Tail Light & License Plate Holder right in your very own shop or garage.
This setup really improves the look of the rear of your Harley-Davidson. Not only that, it improves safety by adding very bright LED run, turn, and brake lights! These will definitely grab the attention of those traveling behind you compared to the dull stock halogen Harley lights.
FITMENT INFORMATION: 
2014 & Newer-Harley Street Glide, Road Glide, Street Glide Special, Road Glide Special, Road King Special
2010-2013 Harley Street Glide & Road Glide models
New Free Videos Mentioned:
Sponsor-Ciro 3D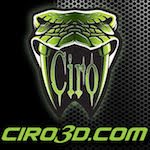 Innovative products for Harley-Davidson
Affordable chrome, lighting, and comfort products
Ciro 3D has a passion for design and innovation
Sponsor-RickRak

The Ultimate Motorcycle Luggage Rack Solution
Forget those messy straps and bungee cords
Go strapless with a RickRak quick attach luggage system & quality bag
New Patrons:
Robert Green of Ripon, North Yorkshire, England

Greg Jordan of Bellevue, WA

Rick Berger of Orting, WA

Tommy Ventimiglia of Coeur D alene, ID

Kenneth Kramer of Algona, Indiana

David Norman of LaPorte, Texas

Eldon Fox of Davenport, Iowa

Ed Stapf of Milford, NH

Herbert Wolfe of Baltimore, MD


John Perryman of LakeHurst, NJ

Brad Fitzsimmons of Whitby, Ontario, Canada

Thomas Flynn of Billings, Montana