Podcast: Play in new window | Download | Embed
Subscribe: Apple Podcasts | RSS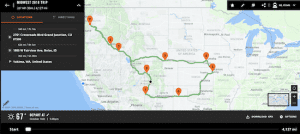 This is what you need to know about the new Harley Ride Planner free online software that was released in mid-2018 and replaces the older long-standing online version. Yes, as usual, Harley did this quietly and mostly unannounced.
We have had the #1 selling Harley Ride Planner tutorial video for many years.   When this new version was released we made a completely new and revised Harley Ride Planner tutorial video! The new free online Harley Ride Planner software is very different from the older version.  Using the desktop version of Ride Planner is the most useful and best experience. However, in our tutorial video, we show you in great detail how to use both the desktop and the smartphone app version of Harley Ride Planner and the entire Harley-Davidson smartphone app!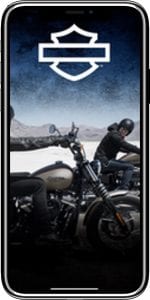 If you're not using the free online Harley Ride Planner software to map out your motorcycle trips then you are missing out. Although it's not perfect, we can show you how to utilize it and get the most out of it in our tutorial video. For a free tool, Harley Ride Planner is pretty great. You can plan and map out your entire motorcycle trip and then download it, and upload the turn by turn GPS directions into your Harley Boom!™ Box Infotainment system or other Harley supported external GPS device.
There are many helpful tools built into Ride Planner such as easily inserting Harley dealership locations, gas stations, restaurants, hotels, events, scenic locations, and more. You can easily filter what you want to see on the map and what you don't. You can add waypoints and places you want to stop. There are different versions of the map you can view such as normal, classic, terrain, or satellite. You can easily zoom in, zoom out, and drag the interactive map around much like what you'd expect using Google Maps. You can add and drag waypoints around and adjust the route to different roads if you.
Once you add an address or location to your route you can see the mileage and time between one stop to the next. You can even view a list of turn-by-turn directions. Once you save your trip you can always come back and make changes if necessary. You can share your saved Harley Ride Planner via a link with friends and they can import it into their Ride Planner and upload it into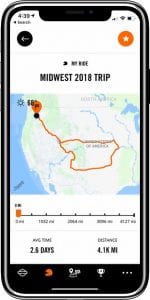 their GPS device. We plan our rides here at Law Abiding Biker™ Media using Harley Ride Planner and then send it out to the entire group, so everyone has the same plans.
While releasing the new Harley Ride Planner desktop online software, they also released a completely overhauled smartphone application for IOS and Android. If you were using the old app called "Ride Planner" you can delete it because it's not supported anymore.
You'll want to download the new official Harley-Davidson smartphone application in your respective app store. Built into the app is Harley Ride Planner along with many different things. The app will sync with your free online Harley account and once you sign in you'll see any saved Ride Planner maps that you created and saved via desktop.
Get the Official Harley-Davidson & Ride Planner Smartphone App!
Yes, finally on the app you can now select one of your planned and saved rides and get visual and audible turn by turn directions on your smartphone! This was not possible on the old Ride Planner app, so I am super excited about this new functionality.
I will say that creating a ride/map on the smartphone app is a bit cumbersome unless you are taking the fastest route between selected locations etc. You can't drag roads to take different routes like using the desktop version. However, there are some tricks I teach you in our Harley Ride Planner tutorial video that will make it possible to create an alternate route and take the roads you want. The app is just not very fast or user-friendly to create detailed motorcycle rides.  By far, the best experience for creating detailed rides is on the desktop online Ride Planner version.
Weather is a new feature on both the desktop and smartphone app versions. It appears Harley partnered with Dark Sky Weather and it is now integrated into Harley Ride Planner. What this means is that you can scrub through a planned ride and see where you'll be at a particular mileage on the map and you'll be able to see what the current weather and forecasted weather is. I find this very useful, but I will say that the desktop version lacks and you can get much more detailed weather info on the smartphone app version. I really hope they fix this on the desktop version and make it more useful.
Additionally, with the Ride Planner portion of the smartphone app you can record your ride and it will track you via GPS. You can then name and save the ride for future reference and share it.
There are different icons on the bottom of the smartphone app and you can go into different portions of the app. On the left is an HD logo and this is the home screen, which recommends rides near you. Next over is a helmet which is a list of your planned and saved rides. The third is a road and flag icon and this is Harley Ride Planner.
Fourth from the left is a trophy cup icon where there are listed "challenges" and it's currently in Beta. I believe they are trying to build some sort of community where you can ride the challenges to earn points and get your name on a ranked list. One challenge I looked at is to ride 600 miles one month and hit 100 dealer check-in points. I guess these check-in points are dealerships and Harley sponsored events. Clearly, Harley is trying to get you into their dealerships to buy things.
Finally, all the way to the right are three dots that open up a menu with everything else. This includes the motorcycles you've listed, scheduling a test ride, finding a dealership, learning to ride, events, renting a bike, the museum, online store, and app feedback.
Overall, I am very pleased with the new Harley-Davidson smartphone app. It is well built, clean, and the user interface is easy to understand. I think it will only get better in time with minor bug fixes and updates.
The desktop version of Harley Ride Planner is so much better than the old version, but it still has a steep learning curve to use it most effectively. In our Harley Ride Planner and Harley-Davidson Smartphone App Tutorial Video, we'll make it easy for you, so you can get the most out of both the desktop and smartphone app versions.
New Free Video Mentioned:
Sponsor-Ciro 3D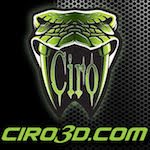 Innovative products for Harley-Davidson & Goldwing
Affordable chrome, lighting, and comfort products
Ciro 3D has a passion for design and innovation
Sponsor-RickRak

The Ultimate Motorcycle Luggage Rack Solution
Forget those messy straps and bungee cords
Go strapless with a RickRak quick attach luggage system & quality bag
New Patrons:
Greg Litton of Rapid City, North Dakota

Robert Taylor of Portage, Indiana

Kenneth Paoli of Fair Oaks, CA

Oscar Hills of Guilford, CT

Greg Buonomo of Location Unknown

David Harder of Discovery Bay, California


Join the Free Email Club!
If you appreciate this free information make sure to join the thousands of law abiding bikers that have already joined the free Email Club! You will be notified of new useful motorcycle content and techniques as we put them out. Join the Community now!