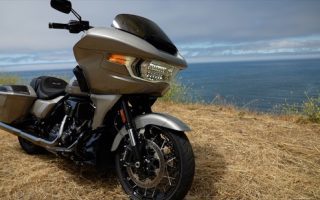 I recently traveled to Monterey, CA to test ride, review, and spend time going over the new 2023 Harley-Davidson Street Glide and Road Glide CVOs. There is way more than meets the eye and these motorcycles are completely redesigned, both aesthetically and in performance. (see video below)
Also, see this video 👉 2023 Harley CVO Street & Road Glide Ride & Review-What You Don't Know!
In this video, I go over 65+ things you must know before purchasing a 2023 Harley CVO or a 2024 or 2025 models as many of these things will likely make it onto those bikes. This is the new direction of Harley touring, so get in the know and watch the video.
These 2023 Harley CVOs have a brand new Milwaukee-Eight 121 ci VVT (variable valve timing) engine, redesigned fairings, controls, handlebars, intake tract, air intake, water-cooled heads, radiator, electric fan, 12.3″ infotainment system, new front and rear Showa suspension with preload and rebound damping adjustments, new radial-mounted 4-piston Brembo brakes, larger brake rotors, new wheels, LED lighting, and new storage, just to name a few things.
**RIDING GEAR I WORE IN THIS VIDEO AND RECOMMEND**
If you appreciate all the free content we put out, please consider supporting us by using our affiliate links below. No additional cost to you and if you do click through and make a purchase we do get a small commission. Thanks in advance.
👉 HELMET
Revzilla: bit.ly/44d3cNH
J&P Cycles: bit.ly/46Jt6Ku
Amazon: https://amzn.to/44CQiID
👉 JACKET
Revzilla: bit.ly/3WsAvIa
J&P Cycles: bit.ly/3JOUInW
Amazon: bit.ly/3JOUInW
👉 RIDING JEANS (KEVLAR)
Revzilla: bit.ly/3O8bi4G
J&P Cycles: bit.ly/3ruSR0Xbit.ly/3ruSR0X
Amazon: N/A
👉 SHOES
Revzilla: bit.ly/3D7O1tp
J&P Cycles: N/A
Amazon: N/A
MY OTHER SHOES
Revzila: bit.ly/3NMqoez
J&P Cycles: bit.ly/3JTgabp
Amazon: https://amzn.to/3rhxr7s
👉 BASE LAYER SHIRT
Revzilla: bit.ly/3ShuMSZ AND bit.ly/3PxMOAU
J&P Cycles: N/A
Amazon: https://amzn.to/3z8Gqa8
👉 BASE LAYER PANTS
Revzilla: bit.ly/3TzNKFt AND bit.ly/3Pz6FQ6
J&P Cycles: N/A
Amazon: https://amzn.to/3psz3uK
HELP SUPPORT US! JOIN THE BIKER REVOLUTION! #BikerRevolution #LawAbidingBiker #Bikaholics
🛒SHOP IN THE LAW ABIDING BIKER STORE 🛒
😎BECOME A MEMBER AND GET BENEFITS 😎
📹GET PREMIUM MOTORCYCLE TUTORIAL VIDEOS 📹
🎬WATCH OUR MOTORCYCLE DOCUMENTARY FILMS HERE🎬
📱SHOP OUR AMAZON RECOMMENDED PRODUCTS 📱
🎙CHECK OUT THE WEEKLY PODCAST 🎙
Join the Free Email Club!
If you appreciate this free information make sure to join the thousands of law abiding bikers that have already joined the free Email Club! You will be notified of new useful motorcycle content and techniques as we put them out. Join the Community now!