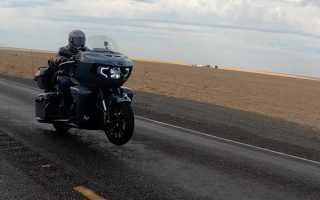 I got to spend 3 weeks test-riding and reviewing this 2023 Indian Pursuit Dark Horse motorcycle with the premium package. I rode the Pursuit in many different environments and on many different roads. Thanks to the Indian Marketing Team for shipping this bike out to me for a thorough review. See all my motorcycle review videos here!
👉 SEE HOW THIS INDIAN PURSUIT STACKS UP TO THE 2023 HARLEY-DAVIDSON CVO ROAD GLIDE AND STREET GLIDE!
I really wanted to put some miles on this bike, so the first weekend we went on a long-distance overnight road trip. I also rode this bike daily at times to really test it in a real-world environment and really get a feel for what it's all about.
Here are some of the major things you should know: (see the video below for the full review and many more details)
I first used the Indian Ride Command online trip planner to plan our trip. It didn't take me long to find my way around and also find some glitches, but hey, it's free. It had some features that I really liked such as choosing the color of your route and a 3D flyover of your trip. I then downloaded the .gpx file and uploaded it to the Ride Command unit on the bike using a memory stick with no issues. You can also share a link to your ride with others if you like.

We set out for our trip and I activated Apple Car Play on the Ride Command by plugging in my iPhone and pairing my Bluetooth headset with Ride Command, which are requirements to activate it. Often times Apple Car Play would not activate or it'd take up to 3 minutes to to do so. I also resorted to unplugging and plugging in my iPhone to get it to activate. The internal navigation in Ride Command also reversed my routes and had some other routing issues during our trip.
There were several other glitches I experienced while using the Ride Command. My hope is that Indian can fix some of these issues with future software updates. With that said, Harley-Davidson has had many of the same issues and glitches with its Boom Box Infotainment System.
The Indian Pursuit is equipped with the PowerPlus liquid-cooled 108 ci engine. This engine was amazing as far as power and performance are concerned. This is a 1768 cc engine and it produces 122 HP and 129 ft lbs torque at 3800 RPM. I found this motor definitely comes alive at 3800 RPM and above. There is plenty of passing power and throttle blips can bring the front tire off the ground. Every time I rolled the throttle I was smiling.

The PowerPlus engine does produce a fair amount of vibrations in the handlebars, seat, and floorboards, especially above 3800 RPMs. There is plenty of feedback, but not to the point of being negative. It was just more than I expected. The bike settles down nicely when you're just cruising down the freeway for long periods.
This motor also puts out more heat than I would have expected considering it's liquid-cooled. It was very noticeable at below 50mph, even with the lower fairing vents open. It's especially noticeable shin down on the insides of your legs and feet. This is not a deal breaker, but certainly must be noted.
I was very impressed with how the stock front suspension and rear suspension handled. The Indian Purusuit I had was equipped with the premium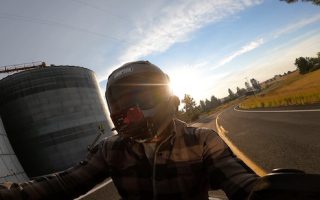 package and because of that, I could adjust the rear suspension preload within the Ride Command. This was amazing!
There are other things that you also get when you upgrade from a base price of $32,000 to the premium package, adding an additional $3,000 to the price tag. You get a two-up heated seat, adjustable passenger floorboards, lower fairing compartment, integrated lower LED lights, and smart lean technology, which is the bike sensing lean angle to adjust traction control and ABS. I'd definitely say that if you can afford it, go for the premium package.
The bike is certainly made for touring, coming stock with heated grips, cruise control, 3 ride modes, a 6-speed transmission, and a 6-gallon fuel tank. You'll get around 37-40 mpg depending on how you are riding. The transmission is quieter and there is very little audible or tactile feedback when shifting.
The Indian Pursuit stereo system with 4 speakers sounded great for stock with no distortion at full volume. I could hear the speakers just fine while cruising at 70-80 mph on the freeway while wearing a full-face helmet.
The bike cornered well with no wobble, even on those long sweeper corners on the freeway at higher speeds. The bike also felt very solid on tight corners and it felt stable while transitioning my weight from side to side. With it's 31-degree lean angle, I dragged the rear of the floorboards in corners when cornering more aggressively. Also, when shifting down aggressively to use engine compression, the bike is less responsive than others I've tested. So, you just need to anticipate and shift down earlier.
When testing the Indian Pursuit on our our Police Motor Officer technical skills course, I learned this båike with its wheelbase, lean angle, and wheel size setup, makes it turn 2 feet wider than something like a Harley-Davidson Electra, Road Glide, or Street Glide, which have a 1 1/2″ shorter wheelbase.
The Brembo brakes, dual caliper up front and singe in the rear, felt very nice when emergency braking, and the front suspension made for a controlled dive when really applying front brakes.
Overall, I really enjoyed my time with this Indian Pursuit Dark Horse with the premium package. If money were no issue, I'd certainly buy a Pursuit and add it to the stable. I really didn't want to give it back.
To get my entire in-depth review of this Indian Pursuit, please see the video below.
**RIDING GEAR I WORE IN THIS VIDEO AND RECOMMEND**
If you appreciate all the free content we put out, please consider supporting us by using our affiliate links below. No additional cost to you and if you do click through and make a purchase we do get a small commission. Thanks in advance.
👉 HELMET
Revzilla: bit.ly/44d3cNH
J&P Cycles: bit.ly/46Jt6Ku
Amazon: https://amzn.to/44CQiID
👉 JACKET
Revzilla: bit.ly/3WsAvIa
J&P Cycles: bit.ly/3JOUInW
Amazon: bit.ly/3JOUInW
👉 RIDING JEANS (KEVLAR)
Revzilla: bit.ly/3O8bi4G
J&P Cycles: bit.ly/3ruSR0Xbit.ly/3ruSR0X
Amazon: N/A
👉 SHOES
Revzilla: bit.ly/3D7O1tp
J&P Cycles: N/A
Amazon: N/A
MY OTHER SHOES
Revzila: bit.ly/3NMqoez
J&P Cycles: bit.ly/3JTgabp
Amazon: https://amzn.to/3rhxr7s
👉 BASE LAYER SHIRT
Revzilla: bit.ly/3ShuMSZ AND bit.ly/3PxMOAU
J&P Cycles: N/A
Amazon: https://amzn.to/3z8Gqa8
👉 BASE LAYER PANTS
Revzilla: bit.ly/3TzNKFt AND bit.ly/3Pz6FQ6
J&P Cycles: N/A
Amazon: https://amzn.to/3psz3uK
HELP SUPPORT US! JOIN THE BIKER REVOLUTION! #BikerRevolution #LawAbidingBiker #Bikaholics
🛒SHOP IN THE LAW ABIDING BIKER STORE 🛒
😎BECOME A MEMBER AND GET BENEFITS 😎
📹GET PREMIUM MOTORCYCLE TUTORIAL VIDEOS 📹
🎬WATCH OUR MOTORCYCLE DOCUMENTARY FILMS HERE🎬
📱SHOP OUR AMAZON RECOMMENDED PRODUCTS 📱
🎙CHECK OUT THE WEEKLY PODCAST 🎙
Join the Free Email Club!
If you appreciate this free information make sure to join the thousands of law abiding bikers that have already joined the free Email Club! You will be notified of new useful motorcycle content and techniques as we put them out. Join the Community now!