Podcast: Play in new window | Download | Embed
Subscribe: Apple Podcasts | RSS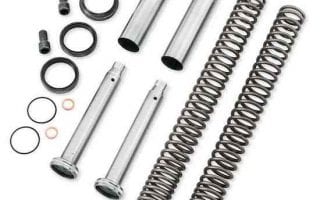 We spent the day installing aftermarket front suspension on Oscar's 2013 Harley-Davidson Ultra Limited. Of course, we filmed the entire project and it will eventually release on our YouTube Channel so make sure you're subscribed!
In this episode, Oscar and I generally discuss the different options for aftermarket front suspension for Harley-Davidson motorcycles along with why you would want to do this. In Oscar's case, it was because his suspension was becoming very soft, which was affecting his front braking and making for a rough ride, especially when he had his passenger on the back. His front end was really dipping when applying the front brakes.

You should also change out your front fork fluid at regularly recommended intervals. We discuss how to do this and also filmed it for release on our YouTube channel. Renewing your fork fluid can help with some front suspension issues you may be having. The procedures for this can vary a bit from year to year.
This article is just an overview about changing out the front suspension on your Harley and you really need to listen in to this podcast episode as we go over all the fine details of this project. We talk about what we learned during this project, some tips and tricks, and things to avoid.

You can change out your front suspension on your Harley right in your very own shop or garage with the help of our video. But, having some specialty tools on hand will make this job a bit easier.
Specialty Tools to Consider:
New Free Video Mentioned:
Sponsor-Ciro 3D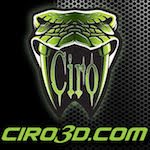 Innovative products for Harley-Davidson & Goldwing
Affordable chrome, lighting, and comfort products
Ciro 3D has a passion for design and innovation
Sponsor-RickRak

The Ultimate Motorcycle Luggage Rack Solution
Forget those messy straps and bungee cords
Go strapless with a RickRak quick attach luggage system & quality bag
New Patrons:
Jim Knisley of Bloomington, IL

David Rodriguez of Pembroke Pines, Florida

Todd Mercer of the United State Military

Ty Fox of Nazareth , Pennsylvania

Elisha Bryant of University Place, WA

Euan Brown of Melbourne, Australia

Richard Tardy of Marion, Indiana

Brad Varmo of Thornton, Colorado

Dan Norman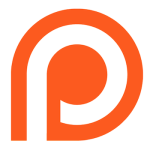 Rodolfo Sanchez of Houston, Texas

Joseph Orr of North Hollywood, California

Gerald Boyer of Merced, CA
Join the Free Email Club!
If you appreciate this free information make sure to join the thousands of law abiding bikers that have already joined the free Email Club! You will be notified of new useful motorcycle content and techniques as we put them out. Join the Community now!