Podcast: Play in new window | Download | Embed
Subscribe: Apple Podcasts | RSS
PODCAST-In this episode we get deep into what you may want to know about joining the Sworn Few Law Enforcement Motorcycle Club-LEMC.  This episode is very informational and will speak to any Law Abiding Biker.  Whether you want to join a Law Abiding Biker (LAB) Club, the Sworn Few LEMC, you are already a member of a LAB club, , another LEO club, a civilian club, a mixed club, or you are curious about what club entrance standards your club might want to have, then you will want to listen for sure!  This blog also has much information to offer.
Due to requests, we wanted to put this episode out to answer any questions people may have about some of the requirements to be considered to join an established Sworn Few Law Enforcement Motorcycle Club Chapter or to start a new Sworn Few LEMC Chapter. As most of you know by now, Ryan Urlacher the owner/founder and hosts of the Law Abiding Biker (LAB) Podcast,  are all full-time Law Enforcement Officers (LEO's) and members of the Sworn Few Law Enforcement Motorcycle Club-LEMC.  From now on, persons showing interest in joining the Sworn Few LEMC or showing interest will be directed to this podcast episode first.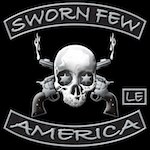 HERE IS SOME INFORMATION YOU SHOULD KNOW ABOUT THE SWORN FEW LEMC:
Thanks for your interest in the Sworn Few Law Enforcement Motorcycle Club (LEMC).  We truly appreciate your interest in our club.  There is much to discuss reference a possible chapter in your area or your interest in joining an established chapter and it would need to be done via a personal phone call.  There is just too much information and/or questions to answer via email, so send make sure you provide us with your full name and a call back phone number.  To contact the Sworn Few LEMC-CLICK HERE.  We have processes and protocols in place for handling new chapter and membership requests.    We must tell you that it is quite a commitment and process to make it all the way into the Sworn Few LEMC brotherhood & nothing is guaranteed or given.  Everything is earned through honesty, brotherhood, hard work, dedication, integrity, and professionalism.
The Sworn Few LEMCabsolutely doesn't care about club/chapter numbers, but we are certainly open to adding the highest quality of members (true brothers). We have made very firm decisions to move forward cautiously and follow our protocols.
Unfortunately, we see too many LEMC's growing way too fast and membership comes extremely easy.  There is no pride in something that comes easy or is given away.  Also, with that sort of rapid growth comes many problems that we will avoid at all costs in the SFMC. Many LEMC's are popping up all over and they only care about numbers and don't properly screen or evaluate their membership.  Actions of some of those LEO club members have put a negative light on us all.  The simple fact that one is a LEO certainly does not make them a good LEMC member.
Simply put, many just don't want to put in the actual time, work, and commitment that is necessary to establish a Sworn Few LEMC chapter or to become a member, and that's okay with us.  The Sworn Few LEMC's standards are set very high for a reason. We have very clear visions about the future of this club and protecting its integrity.  Only those that have truly sought and obtained full SFMC membership will ever feel that kind of pride and brotherhood. It simply can't be put into words.   Also know that we don't have any, nor will we ever have so-called "Nomads" in the SFMC.  There will never be one SFMC member in an area.  The SFMC is first and foremost about brotherhood and you can't have that if someone is a "Nomad" and a loner.
To get started with a possible chapter you would need 4 minimum and 6 maximum TRUE brothers that you fully trust, respect, and know well to even be considered to start an SFMC "support crew", which is the first step in our process should that happen.  Please understand that we are certainly not trying to scare you away whatsoever.  We don't recruit for members like some LEMC's and any member you see has come to us on their own seeking membership.
After reading this blog and listening to this Law Abiding Biker Podcast Episode you are absolutely convinced we may be the club for you, then send us an email with your full name and phone number.  We can then schedule a time for a one on one phone call from a Sworn Few Law Enforcement Club Mother Chapter Officer.