Podcast: Play in new window | Download | Embed
Subscribe: Apple Podcasts | RSS
PODCAST-In this episode we read an email from a listener who had some great questions about riding motorcycles in a biker club environment or setting. We discuss this topic and try to shed some light on it. We here at Law Abiding Biker Podcast and Media are members of the Sworn Few Law Enforcement Motorcycle Club (LEMC) and he asked how we specifically do it in our club. We have specific ways we ride within the Sworn Few LEMC and we share that information with you. We throw out some ideas that may work or not work for other Law Abiding Biker clubs. It turns into a very good discussion and certainly a topic we may follow up on in the future.
Below is the email question from Todd of Western Washington State and we want to thank him for contacting us. His email made a whole podcast episode topic for us. He had some internesting insight into how his club currently rides within their motorcycle biker club environment. You really must listen to this biker podcast episode.
Thanks man! I really appreciate the work you guys do in regards to the podcast. By far one of the best motorcycling podcasts […]out there. Hey guys, I'm a fellow LE biker type from a large nondescript Sheriff's Office over here in Seattle. I've been hammering through your podcasts and dig the information you have been putting out, even though not all of it necessarily applies to me. I also ride with a dedicated group of guys, albeit a different setup than a classic MC or LEMC. We are less structured, don't necessarily require LE credentials (although a majority are), and are open to all makes of bikes. We do have three "founding fathers" who largely steer the group and have veto power over anything contradictory to the benefit of the group as a whole. I was curious if you'd do a podcast or a portion of one on group ride dynamics. By that, I am curious as to your club's take on riding positions when you guys are in formation, if they are flexible, and what you feel each of those positions mean for you. I am well aware of standard MC protocols, but was curious if you had a variant on that take. As for us, we typically have three set positions on our rides. I generally serve as a road captain as I consider myself one of the stronger riders and navigators. We also put a strong rider in the middle and one at the rear to provide some necessary encouragement to those who are sandbagging. We like to ride aggressively (not like ass holes) and tight. We also recognize when dudes kind of want to do their own thing as far as riding styles and try to accommodate that when the roads allow for it. Another thought I am curious about is your club's feelings on a pair of dudes breaking off to do their own thing while in a particular area. We used to be against it for safety and logistical reasons, but we have since amended to having a standing rule of no less than two breaking off and a hard rally point where no one leaves from until we are all back together. All in all, I'm just looking to maximize our riding experiences. I'd appreciate your insight as you are a traditional MC and from the sounds of it, you seem to be making it work. Thanks! Todd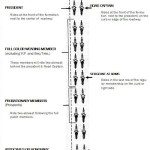 The Sworn Few Law Enforcement Motorcycle Club (LEMC) follows a traditional motorcycle biker club formation when riding to events, short rides, on formal occasions, or any other time the President deems necessary. The traditional motorcycle biker club formation is as follows when riding motorcycles two abreast.
Front left position is the President
Front Right Position is the Road Captain
Directly behind that are the other fully patched color wearing members to include the Vice President, Secretary, and Treasurer
At the rear to the right is the Sergeant at Arms
Directly behind the fully patched color wearing members are the probationary/prospective members and follow the fully patched color wearing members
At that tail are the hang arounds
When the Sworn Few Law Enforcement Motorcycle Club are on longer cross country rides for many days at a time we fall from these traditional positions as it would be boring to maintain and gives everyone a bit of freedom to just ride and enjoy the scenery. However, we still ride hard and to a specific level and fall back into formation if necessary. Often times not everyone will have a GPS unit on their bike, so it may be necessary for any member to take the lead to get to our destination.
You really must take seriously who you choose to join your motorcycle biker club and that they have the proper riding skills. We get into this in depth on this podcast and reveal some of the things the Sworn Few LEMC has in place to make this happen. At times the Sworn Few LEMC Officers or fully patched color wearing members will allow hang arounds or prospective members into the main riding formation for short periods. This is simply part of our long prospective member process for the Sworn Few LEMC and to truly observe actual riding abilities of individuals. Any deficiencies need to be addressed and corrected over a period to time or full club member status will never be obtained. The Sworn Few LEMC does train hang arounds or prospective members to ride at a certain level, but not everyone will make it of course.
Low speed motorcycle riding and maneuvers is where I see many bikers and motorcycle clubs look very sloppy. It's not that hard to ride fast, but to ride while turning your handlebars tank to tank takes practice and dedication. Dragging feet at low speeds while entering events just looks plain sloppy and will not happen within the Sworn Few LEMC. We are a professional Law Enforcement Motorcycle Club and it all starts with how you ride and how you look. Of course riding at higher speeds handlebar to handlebar around corners takes much practice and time riding together.
FREE MOTORCYCLE BIKER VIDEOS! We announce two brand new FREE video releases from Law Abiding Biker Media and they are as follows:
We play a voicemail from a listener in reference to the adjustable rear suspension on the new 2014 Harley Davidson Touring Models, specifically the Street Glide Special. Because of this very voicemail from a Law Abiding Biker Community member I made a FREE TUTORIAL VIDEO in reference to this matter.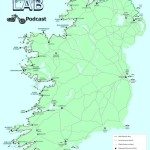 A long time supporter and donator to the Law Abiding Biker Podcast John O' Keefee sent an email and wanted everyone to know about this awesome ride in Ireland! Here is his email:
Hey Ryan,
This is Ireland's version of Route 66. It would be great if you could give it a mention at some stage on your pod cast. It is 1,820 miles of twisty roads, Irish bars, restaurant, hotels and breathtaking views of Ireland's west coast..
We want to thank the following listeners and supporters for their recent donations:
Scott Ladd of Spring Lakes, MI
Danopros Consulting of San Jose, CA
Keep the rubber side down and the shiny side up!