Podcast: Play in new window | Download | Embed
Subscribe: Apple Podcasts | RSS
PODCAST-In this episode we read an email from a listener who is contemplating a big change from a Honda metric motorcycle to a Harley Davidson. She is used to a shaft final drive on her Honda motorcycle and is not familiar with the belt final drive that Harley Davidson uses on their motorcycles. Further, she is not certain about chain final drives that some use. She wanted to specifically know about the pros and cons of a motorcycle belt final drive vs. a chain final drive. Of course, we support all makes of motorcycles here at Law Abiding Biker Podcast and Media.
We break straight through to the truths and myths when it comes to motorcycle chains and belts. We kept it real and focused in on what the average every day law abiding biker and motorcycling majority (the 99%ers) would need to know about this subject. Our dicussion is not geared towards motorcycle drag racers or track racers, as that is not what we do here at LAB Media. We ride real bikes in real world conditions and for long distances. Here is the email that was sent:
From: Kelly Ušanović & Lijep Pozdrav: I have a Honda right but am contemplating the big change to a HD and have heard so many stories about maintenance and what a nightmare it is etc etc. so i hit up youtube and found your videos… first I wanted to take a min and say damn good videos. I have not gone through them all yet but I was wondering maybe a little something something about chain vs belt for those of us thinking of making a change. Right now I have an enclosed system and it's so easy. I really don't know anything about chain or belts pros cons maint….. Oh and thanks for the amazing videos both my bff and i (both female) were able to follow them no prob. love the videos. <3
Most every Harley Davidson built after 1984 is equipped with […] a belt final drive. Final drives on an American motorcycle are either a "belt" or a "chain", not a shaft. We don't get into shaft final drives in this episode, but will hopefully do so in the future.
In a motorcycle belt final drive system the round object with cogs on it on the rear wheel is called a "pulley". In a chain final drive system the round objects are called "sprockets". So, either you have a pulley with cogs that mate to the teeth on a rubber belt spinning off the transmission or you have a sprocket with teeth that mate to metal links on a chain.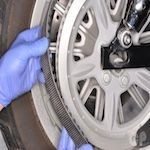 The belt on a motorcycle final drive is made of high tech compounds, rubber, and kevlar. Kevlar is what bullet proof vests are made of, so you can be certain is is extremely strong. A belt drive does not need any oil at all, they weigh less than a chain, they can last up to 100,000 miles before replacement, and they need no maintenance, because they generally do not stretch like a chain does.
A few very old school type bikers that refuse to accept change may try to convince you that you just must have a chain in case you want to change gear ratios on your motorcycle. You can just swap out some sprockets and be ready to go. Okay, that's not what I need to do before a cross country trip on my motorcycle. Sounds great if you professionally drag race your motorcycle. They ask you what you are going to do if your belt suddenly snaps for no reason. If a chain breaks all you need to carry around is a little master link to repair it and your back on the road. Seems like maybe some sound arguements until you have all the actual facts.
You see, in all my years of riding motorcycles with final belt drives and riding around a ton of other motorcyclists with the same set up, I have yet to see a motorcycle belt snap for any reason if replaced when the manufacturer recommends. I did speak with some motorcycle mechanics about this subject, as they see thousands of bikes come into the shop. Even they only had a few stories of motorcycle belts snapping suddenly. Theoretically, if you rode without your belt guard in place and then got a sharp rock stuck between the belt and pulley it can cause problems and cut your belt. Or if someone really and I mean really abuses their bike in racing or drag racing type situations it is a possibility. Again, these things do not concern that average biker or motorcyclist. Additionally, in that one in a million chance my belt final drives snaps they have what are called cellular phones these days. Oh yah, and did I mention tow trucks. Again, in all my years of riding I have never personally observed a motorcycle belt snap. I have seen burnout pit after burnout pit at biker rallies and events where rear tires are even popped, but I have not seen the belt snap yet. Although, I am sure it happens from time to time. That may fall in the category of really abusing your bike, but even at that the belts don't snap.
Okay, now when you talk about chain final drives we've got some real life and proven issues to talk about. You see, a chain has metal links that are constantly tugging apart form the forces, which are torque and horsepower. Each link on a chain has metal to metal contact with each and every link and contact with the metal teeth of the sprocket. This is why chains eat themselves up in no time, they wear and stretch over time and have to be replaced. Usually you'll need to replace both sprockets about every other chain replacement.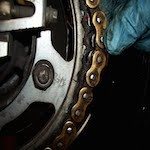 Further, motorcycle chains have to be constantly oiled/lubed, which is then flung all over the rear wheel, fender, or back of your leg. Motorcyclists that use chain final drives often have to carry rags around with them to clean all the oil off their bikes. The lube you put on your chain then draws in dust and dirt, which are both abrasives and further eat at the metal chain. Chains stretch and have to be adjusted on a regular basis. The motorccyle chains these days are typically O-ring chains, which are somewhat of an improvement from the older style chains back in the day. At each link on an O-ring motorcycle chain is a tiny rubber ring, which holds the lube in and limits dirt from entering the link.
So, who uses chains these days you ask? Motorcycle chains are utilized for bike customizing often times when a fatter rear tire is desired. For example, one might be able to go from a 130mm to a 150mm rear tire using your stock frame. The belt would be too wide and so a skinny chain is utilized to complete the customization. Custom bike builders that build from the frame up may prefer a chain as it gives them more options, again because of the width of a belt final drive. Or if you put a crazy monster motor in your motorcycle with an unreal amount of horsepower then you may use a chain. Again, this is limited for the most part to custom biker builders or racers. This is not the norm for the overwhelming majority of bikers out there.
I will finish up by saying that typically if a belt were to snap for some weird and uncommon reason, then it will not cause the damage that a metal chain does. If your motorcycle chain snaps and that metal begins flying around at who knows what speed, let me tell you that it can cause a lot of damage to the rear portion of your motorcycle. Rubber tends to be a bit more forgiving than metal.
In my opinion and based on facts, a belt final drive over a chain final drive is the obvious way to go for the motorcycling majority. Unless you are a custom bike builder or drag racer I would stay away from a chain final drive if you have a choice.
We talk about this subject even further and give our insights on the matter in this podcast episode, so make sure and listen in. We discuss some other sub topics on this episode too.
Keep the rubber side down and the shiny side up!