Podcast: Play in new window | Download | Embed
Subscribe: Apple Podcasts | RSS
PODCAST-In this episode I have the privilege of interviewing Mike Petry, who is the National President and a founding member of the 2nd Amendment Motorcycle Club (MC).  Okay, so the club name certainly gives a clear idea of what they stand for-right?  Let me tell you that there is so much more to this motorcycle club and its members & you should definitely take a listen to this episode. We really break it down from how the 2nd Amendment Motorcycle Club came into existence, their struggles, their accomplishments, their ideologies, their beliefs, and just what makes them tick.  We dive further into what it may take to become a member of the 2nd Amendment MC and how to get in touch if you are interested.  Mike has a pretty cool background and some real insight into starting a law abiding biker (LAB) club from the ground up and what it takes to keep a law abiding biker club in line and running smooth.  He has experience with another LAB club and has certainly learned along the way.  I learned that at the end of the day the 2nd Amendment Motorcycle Club is all about the law abiding biker motorcycle scene, riding motorcycles, and protecting our right to bear arms as American Citizens.  After all, what's better than riding motorcycles and shooting guns? Can't get any more American than that!  Okay, maybe some cold […] beer too.
The following is written and approved by 2nd Amendment Motorcycle Club (MC) National President Mike Petry:
"2nd Amendment MC.
Was founded by 3 FFM (First Founding Members). Feb 23, 2013 since then we've had 1 FFM step down and away from the club to start a new chapter in his life.
We developed the by-laws for basic guidelines. As the mother chapter we do not micro manage each chapter. With that being said the by-laws do give us the right to over rule anything on a chapter level. We do watch over the chapters in the beginning. Once we fully trust that chapter we'll give them authorization to order our patches directly from our embroider.
We wanted a club that felt strongly about the 2nd Amendment. Although we strongly encourage it we do not require our members to have a conceal carry permit. 2nd Amendment is way bigger that just the CCW's.
One of the things we do to all our vests is what we call Preparing the vest. Before the patch is placed on the vest the President or Vice President will firing a shot through the back of the vest, of course creating a hole. The hole in the vest under the patch will represent the path, for the colors, to have contact with the body of our members. We refer to this as "Letting our colors bleed". Bullet hole will be an internal honor of 2AMC to all of our full patched members. All efforts will be made to recover the spent round. With come creativity it can be fixed to the outside of the member or vest. Our National Sgt at Arms made his into a chain necklace.
As of now we have 3 chapters. Mother chapter being in the Columbus Ohio area. With 2 other chapters in Portsmouth Ohio area (southern Ohio) and Indianapolis Indiana. We do have 2 other chapters in the beginning stages.
We also have a handful of nomads members. Florida, Kentucky, Missouri, and Louisiana. We have 24 brothers.
Going into our 2nd year as a club, and after listening to LAB pod cast, we have decided to become more selective in our members and chapters. Also, after listening, we came up with a rider formation for group rides. We feel no matter what we stand for, good or bad, public perception is reality. We can spend the whole summer doing good and erase all that perception with one single action. Something that we do not want to happen.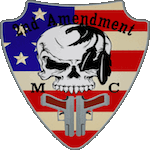 Our back patch was designed by the National President and voted on by the national board (Mother chapter officers).
Flag background speaks for itself. Red, White and Blue. (the colors are faded down some) The Skull represents the death of all that who have died for and who will die for the freedom of our great country. The eagle with the feathers over the skull represents the native Americans who believed our government when they were fooled to put down their weapons and allow to US Government to take care of them. As Americans we don't want to be taken care of. We want to be left a lone.
The 2AMC is a law abiding members only club. We support most LE clubs, we have close friends that are LE.
We are part of "The Alliance". Which is a LE, EMS, Military and law abiding coalition. Creating an umbrella for all Law Abiding Clubs and bikers. Putting the control back in the 99%. We feel that the 1% should not be setting standards for the biker community. LAB should reach out and be involved with The Alliance."
2nd Amendment Motorcycle Club MC Links:
-Keep the rubber side down and the shiny side up!