Podcast: Play in new window | Download | Embed
Subscribe: Apple Podcasts | RSS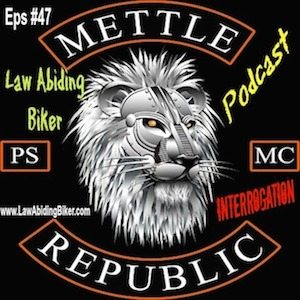 Podcast-In this episode I have the pleasure of speaking with Paul "Pablo" Harnett, National Road Captain of the Mettle Republic Public Safety Motorcycle Club (PSMC). We talk about what the Mettle Republic PSMC is all about, when it was founded, what the colors mean, the three piece patch, membership, officer positions, and so much more. You really must listen to this podcast episode to get all the details.
Paul is very involved with the law abiding biker community. I talk with Paul about a newly formed organization named "The Alliance" that he is very involved with. The Alliance is dedicated to bringing all law abiding biker (LAB) clubs together for communication purposes, intelligence sharing, and cross-club brotherhood. The Alliance isvery new at this point, but things are moving forward. There is no website right now, but you can check out the FaceBook Page to learn more and get involved. Keep checking in, as they have plans to launch a website. In Law Abiding Biker Podcast Episode #45 I interviewed John and Jossalyn Larson of the Blue Daos MC, who are also very involved with "The Alliance".
Mettle Republic Motorcycle Club
The following is written and approved by National Road Captain of the Mettle Republic Motorcycle Club Paul "Pablo" Harnett:
The Mettle Republic PSMC is a law abiding, family friendly, socially responsible motorcycle club. Our members come primarily from the ranks of Law Enforcement, Fire, EMS, and military personnel. We allow select civilians and family members as well. Our goal was to be as inclusive as possible. The only absolute disqualifier from membership is a felony criminal record. All candidates are subject to criminal and personal background checks and a prospect period.

Our colors are Silver, Black and Orange. Our symbol is a lions head in an armored mask which represents our commitment to a higher standard of behavior required of today's law abiding motorcycle club, and the fortitude to defend it.

We currently hold to a single chapter in each state with each state operating independently under their own leadership. The national governance structure is to provide guidance to states in maintaining compliance with the club Constitution and By-laws. We are set up as a Republic.

Our purpose is to provide brotherhood and friendship in sharing our love of motorcycling and participate in the various efforts to support our military and public safety agencies and personnel with the many challenges they face.

Mettle Republic PSMC Club Oath:
As a member of the Mettle Republic Motorcycle Club, I will remain faithful to God, Country, and Family. I will be mindful of the Democratic Values of my fellow citizens. I will stand ready serve others with Dignity, Respect, and Good Will.
Keep the rubber side down and the shiny side up!