Podcast: Play in new window | Download | Embed
Subscribe: Apple Podcasts | RSS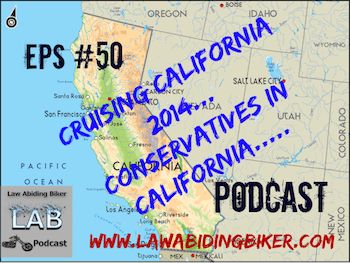 PODCAST-Okay, we really tried to pack a ton of information into this episode. No, this episode is not really as long as it may look for the overall episode time (kind of). We just put some bonus content at the end of the regular episode that lasts about 45 minutes longer. I have been working hard over the last 2 months developing and designing a brand new Law Abiding Biker Podcast and Media website. I was able to finally launch it about a week ago, so enjoy http://www.lawabidingbiker.com. I wanted the new website to be clean and very user friendly, so I hope it is a good experience for you each time you visit.
The main topic of this episode is the recent 7 day motorcycle trip that members of the Sworn Few Law Enforcement Motorcycle Club took through Oregon, California, Nevada, and Washington. We have some useful information and things that came up along with some interesting and funny stories.
Harley Davidson Front Brake Line Recall
Harley-Davidson has issued a massive recall for its ABS-equipped 2014 Touring models. The recall notice affects 66,421 units. At issue is placement of the bike's front brake line, which may become pinched between the fuel tank and frame and potentially lock-up the front wheel. I just got the recall taken care of on my 2014 Harley Davidson Street Glide Special and it took about 20 minutes at the dealer. The mechanics remove your gas tank, inspect the brake line for damage, and then put two zip ties (cable straps) to keep the line in place so it can't get pinched.
Here are the Harley Davidson models that may are affected.

For this most recent brake line recall, H-D owners can contact Harley-Davidson customer service at 1-800-258-2464. The affected recall units are from the models listed below manufactured from July 1, 2013 through May 7, 2014:
2014 FLHP Road King Police
2014 FLHR Road King
2014 FLHRC Road King Classic
2014 FLHRSE CVO Road King
2014 FLHTCU Electra Glide Ultra Classic
2014 FLHTCUTC (Uncertain on specific model, but potentially FLHTCUTG Tri Glide Ultra Trike)
2014 FLHTK Electra Glide Ultra Limited
2014 FLHTKSE CVO Limited
2014 FLHTKSHRINE Electra Glide Ultra Limited Shrine Edition
2014 FLHTP Electra Glide Police
2014 FLHX Street Glide
2014 FLHXS Street Glide Special
2014 FLHXSHRINE Street Glide Shrine Edition
Cell Phone Motorcycle Mount:
We want to remind everyone that we did a complete review video and blog on cell phone motorcycle mounts from Power Sports US. We really like the mounts and if you order a cell phone or GPS mount please consider using our Power Sports US AFFILIATE LINK and we get a small kick back, which helps keep the content coming your way.
Emails covered:
Email:
Kim Pharris of Huntington, TX
My husband & I just bought 2014 Street Glide Specials and haven't been able to find rear lowering kits. Any ideas? Thank you!
We are throwing this question out to the listening audience. Call our listener hotline or leave a voicemail right from you computer if you have an answer. You can also leave a comment at the bottom of this page.
We thank the following loyal supporters for donating. If you would like to donate to support our efforts you can do so at https://www.lawabidingbiker.com/donate
Zack Lindsey of Halethorpe, MD
James Kunkel of Warrenton, VA
Alejandro Guevara of Hialeah, FL
I recently completed a follow up blog with credible non-biased information on the "Bike Night" biker shooting in Jacksonville Beach, FL that occurred on June 26, 2014 around 8:00 PM outside Nippers Bar Grille in Jacksonville Beach, Florida.
You can also listen to Episode 48 and Episode 49 to get even further information.
This was shared  by  our friends over at Full Throttle Full Mag on Facebook recently and I though it appropriate to open the episode with it:
Maybe this: the man hunched over his motorcycle can focus only on the present instant of his flight; he is caught in a fragment of time cut off from both the past and the future; he is outside time; in other words, he is in a state of ecstasy; in that state he is unaware of his age, his wife, his children, his worries, and so he has no fear, because the source of fear is in the future, and a person freed of the future has nothing to fear.


-Milan Kundera
Keep the rubber side down and the shiny side up!