Podcast: Play in new window | Download | Embed
Subscribe: Apple Podcasts | RSS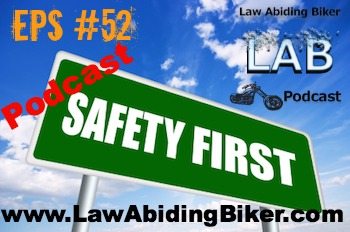 PODCAST-Podcast listener line is (509) 731-3548. You can also leave a voicemail right from your computer at https://www.lawabidingbiker.com/voicemail. Thanks to all that have called in an become involved with the law abiding biker community!
We get into the recent hot subject of Tiered Motorcycle Licensing. Tiered licensing is when a State decides that they will issue several different classes of motorcycle licenses to a rider. The class of license you will receive is solely the amount off CC's your motor is when you take the skills test. For example, if you were to pass on a 250cc you would not be able to ride anything bigger unless you came in on a bigger cc motorcycle and passed the skills test. There is usually an "unlimited class" for say example, anything over 750 cc. This has been implemented differently in different states over time.
The fact of the matter is that many states have abandoned the old tired licensing program, because over time there was no hard evidence or statistics that this program somehow reduced motorcycle collisions. We disagree with tiered motorcycle licensing all together and with good reason. You will have to listen in to find out the facts of the matter.
The issue recently heated back up when the State of Illinois decided they may implement it based on recent statistics that their motorcycle fatality collisions are on the rise. I live in Washington State and many years ago we had tiered licensing, but eventually got rid of it. There is no hard evidence
New Affiliate
We have a new affiliate with B&H Photo Video. At no additional cost to you, one can click through the link to purchase and item and we get a small commission. This is a way you can help us out. I worked hard to get this affiliate and I purchase many tech type items from B&H. Everything from photo and video to audio gear, they have it all. I have found that often times they are cheaper than Amazon. They have great customer service and fast shipping. So, next time you need a tech gadget or accessory, please don't forget to help us out. We have many other Affiliate Links, so go check them out.
Voicemail:
Josh called in via the listener line reference a whether or not he should install a Power Commander V and a DynoJet Auto Tuner. Oscar was in the studio and answered his question in depth.
Resources mentioned:
Emails:
Hey Ryan! Found LAB on you tube and learned a lot from watching the maintenance video … recently picked up my first Harley, 2010 wide glide, and will be bonding with it via wrench time in addition to riding 🙂 Made a small donation to LAB…pic is from last wknds trip through SW Oregon…this at Port Orford… .thanks again – much respect!
My Response:
Thanks for the feedback and for sharing that photo bro (beautiful). Sitting in the studio working hard (12-14 hour days right now aside from my regular LEO job). Well worth it when community members make contact & take me away for a moment. THANK YOU SO MUCH FOR THE DONATION. It really does help me in keeping this content creation going for the Law Abiding Biker community. I promise it will be put to good use. I have been shooting videos like crazy in the 108 degree garage over the last 2 weeks. There are a bunch of free videos that will be coming out. Just takes time to edit and all the other stuff that goes with producing vids etc…….
Tom Henderson of White River Junction, Vermont
You seem to explain things real well, I have a 2014 limited with the Hd street cannons , stage 1 download and Ventilator Air. I get a lot of decal popping when down shifting in third and second gear about 1850 to 2300 in rpms, I have had the deal check for leaks and they could not find any, I also used copper silicone and still pops. I see you changed your pipes and was wondering if you had the same issue. The dealer says this is a normal condition , other tell me to buy a tuner and tune it out.. Also before the street cannon,s I had 4″ Rhineharts and they did not decal pop, would you know why? And what are your thoughts.. Maybe the street cannons this is a common thing. You have the Vance and nine and I was thinking of swapping ton them.
MY Response:
My 2011 Harley Davidson with Vance and Hines True Duals popped. My 2005 Harley with Vance and Hines Big Radius popped a lot. My 2014 with Vance and Hines Twin Slash Rounds does not pop. It certainly depends on the baffles you have and whether or not it is a 2 into 1 into 2 system like my Twin Slash Rounds are.