Podcast: Play in new window | Download | Embed
Subscribe: Apple Podcasts | RSS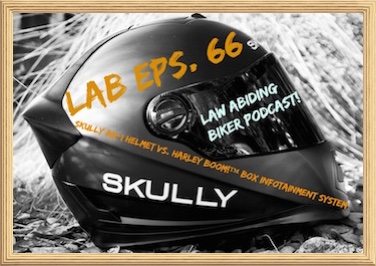 PODCAST-In this episode we talk all about the new Skully AR-1 motorcycle smart helmet that can be ordered in matte black or gloss white, sizes small through XXL for $1, 499. And the San Francisco based company says they predict you will get the helmet into your hands in July of 2015. What is the hype with this new motorcycle helmet and is it right for you? Do you ride a sports bike, dual sport, or a cruiser? It does make a difference for many. Do you want more technology in your face? Or do you want to detach for a bit and feel the wind in your face?
The Skully AR-1 smart helmet has a very small cube screen that sits off to the lower right of the rider's cheek inside the helmet. This cube heads up display screen sits behind the visor and is attached. The helmet has a fisheye style camera in the rear. A rider can glance over and to the right and see what is behind in the heads up display. At the same time the rider really doesn't have to take his eyes off the road in front of him.
Additionally, the Skully AR-1 has integrated GPS with integrated speakers for turn by turn directions along with bluetooth capability to connect to your smartphone and listen to music. You can also talk on your bluetooth connected smartphone while riding your motorcycle. Things such as your speed can also be displayed in the heads up display. It is all finished off with a technology fighter pilots use to tint the visor with the push of a button.
CEO of Skully Systems Marcus Weller's biggest selling point for the AR-1 is the ability to have situational awareness and keep line of sight on the road in front of you. The idea of the Skully helmet came to him after he was involved on a motorcycle collision when looking down at a GPS unit. He started it all off with a crowd funding campaign, which quickly grew.
Marcus Weller will certainly have an immediate market for the AR-1 in the sports bike and dual sport motorcycle arena, however at $1,499 many of those riders won't make that huge financial leap either. They will stick with their current full face or modular helmet.
It is going to be hard for the AR-1 to make an impact in the enormous cruiser motorcycle riding market. A majority of bikers on cruisers, especially Harley-Davidson, may not want this helmet nor give it a second look. Bikers like this want an open face helmet, the wind in their face and maybe even a detachment from some technology as they ride into the sunset with no thoughts or stresses.
Harley-Davidson already has all this technology and more in the form of the awesome Boom!™ Box Infotainment System (in dash), but not in a helmet heads up display like the AR-1. Harley started outfitting touring models with the system in 2014 and continue to do so.
The Harley Boom!™ Box system has integrated GPS with turn by turn voice guidance, bluetooth, wireless streaming music form your smartphone, the ability to receive phone calls, satellite radio capabilities, and more all on a gorgeous 6.5 inch touch screen display. You can hear you music through the large fairing speakers while riding at 70+ down the road. And still feel the wind in your face.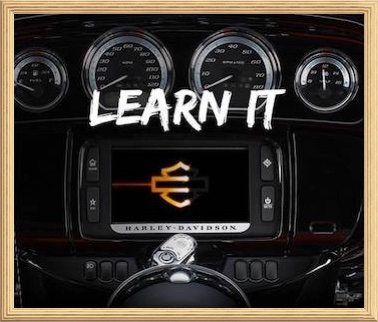 Of course this Boom!™ Box system comes stock now on new Harley touring models, so for most it is not reasonable to go out, spend an additional $1,499 on the Skully  AR-1, and then basically let the Boom!™ Box system take a back seat.
Of course the Boom!™ Box does not have a rear view camera, but that could be added by HD in the future & could even be seen on the very large touch screen display. The one thing that Skully definitely has over the the Boom!™ Box is the ability to use and operate the technology without having to take your eyes off the road. And for many that is the only selling point they need.
There are more riders these days on cruiser style motorcycles wearing full faced helmets or those of us that wear them in cold or in-climate weather, so there will be some appeal in the cruiser style arena.
I personally think the Skully AR-1 smart motorcycle helmet is pretty awesome, but I love technology and I definitely understand the safety benefits. I would love to have a Skully Ar-1 to check out and ride with on my 2014 Harley Davidson Street Glide Special.
For those that want to ride free and feel the wind in their face will likely stick to the Boom!™ Box or other built in units with their open face helmets. They may laugh at a smart helmet like the Skully.
For a ton of motorcyclists the Skully is just another novelty item that is unobtainable, because of the steep price point. I do however see the prices coming down over time especially when Skully gets a run for their money and other manufacturers start cashing in on the new smart helmet craze.
You really need to listen in on this Law Abiding Biker™ Podcast episode. We get so much deeper into this topic and everyone has an opinion. LD and Oscar were on the mics with me along with Matt Pass from California via Skype. What a great conversation you won't want to miss!
A few huge Law Abiding Biker projects going on & discussed! Stay tuned!
Dynojet Power Vision electronic fuel injection (EFI) tuner project

Thanks to DynoJet Research and Chris Kelly for supporting us on this project

Filming/Tutorial
Installing
Reviewing
Article

Vance & Hines Fuel Pak 3 electronic fuel injection (EFI) tuner project

Thanks to Vance & Hines and Chris Neely for supporting us on this project

Filming/Tutorial
Installing
Reviewing
Article

Titan 1000D Motorcycle Lift Table project

Thanks to Ian Gilmore of Redline Engineering for supporting this project and for his podcast interview (upcoming)

Filming/Tutorial
Assembling
Reviewing
Article
Other things discussed in this episode:
Two of our new Free Victory Videos:
We want to thank the following new Patrons for taking action to help the biker community! They all get the exclusive benefits that come along with becoming a Patron! And they show the rest of the biker community that they appreciate this platform. God Bless and thank you for the support!
Matt Pass of California
Gary Zakarin
Marc Littell of Eastern Tennessee
Valerie Hambrook of Calgary, AB
Videos we discuss in this episode: