Podcast: Play in new window | Download | Embed
Subscribe: Apple Podcasts | RSS
PODCAST-Anyone who knows anything about riding street motorcycles surely remembers or had heard of the hit TV se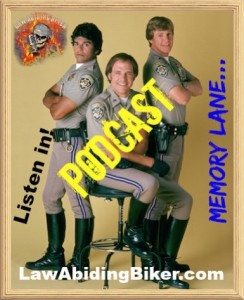 ries CHIP's! Even those that have never ridden a motorcycle have either heard of or watched the show themselves. The show has had a long lasting impact on many and we wanted to dive into and reminisce in this podcast episode. We have it packed with information and fun facts.
There were many actors that appeared in the series each season, which aired from 1977-1983. Of course we all remember the main duo, Officer Jon Baker, played by Larry Wilcox, & Officer Frank Poncherello (Ponch), played by Erik Estrada.
Sgt. Joseph Getraer played by Robert Pine was their direct supervisor on the show. Don't forget the beautiful Randi Oakes who played Officer Bonnie Clark.
Ponch was the macho, rambunctious one and Jon was his straight-laced partner. The two didn't always see eye to eye on set, but have since reconciled. Each had their contract negotiation issues later in the series. Larry Wilcox actually did not return for the entire last season due to salary issues.
 Newest Patron!
Thanks for the Donations and your support:
Tony Hamler of Hixson, TN
Craig Yockey of Cypress, CA
Geoffry Allen of Lynn, MA
Links, videos, & items we referred to in this episode:
Erik Estrada

Was seriously and near fatally injured in a motorcycle accident during the filming of a season 3 episode (1979)
Early in season five, Erik Estrada briefly walked off the show due to contract disputes. He was replaced by Bruce Jenner as Steve McLeish.

Larry Wilcox

In order to avoid the draft, he interrupted his acting studies by enlisting in the Marine Corps Reserve in 1967, and wound up serving over a year in Vietnam as an artilleryman
Left after season 5 after salary talks stalled

Robert Pine
Randi Oakes
Bruce Jenner
The motorcycles used in the CHIP's series:
Full Cast and Crew
CHIPS 35 Year Reunion YouTube
Jon and Ponch's unit IDs were L.A. 15 Seven Mary Three and Seven Mary Four, respectively.
Trivia and Facts
George Lopez On Erik Estrada: 'I'll F*ck That Motherf*cker Up'