Podcast: Play in new window | Download | Embed
Subscribe: Apple Podcasts | RSS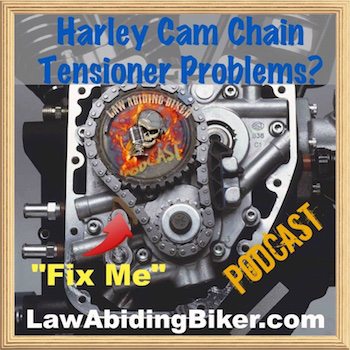 Podcast-In this episode we break down the issue of problems with pre 2006 Dyna's & 1999-2006 spring loaded cam chain followers in Harley Davidson twin cam motors. The chain tensioning system in these motors uses plastic "shoes" riding on the cam chains that wear out. We here at Law Abiding Biker all agree that there is no real concern with the newer post 2006 motors and is limited to the years stated. Although we are pro Harley Davidson, this was a complete design failure and the company should have done a better job taking care of owners of the affected years in our opinion.  You really need to listen in to this podcast episode to get all the facts and information.
What is happening on the affected years? The plastic spring loaded cam chain follower fails & it shreds plastic material that fouls the rotary gear oil pump cutting off oil flow to the engine. The problem is that many are experiencing failures at many different mileages, so it is hard to predict. Additionally, riders likely will not hear anything going wrong. The only way to check the status of your cam chain followers is to dig in and inspect them. If you are going to be in there for that then we suggest to just fix the problem permanently & we will tell you how.
What did Harley do to fix the problem on the newer motors? On the 2007 and later motors, hydraulic cam chain followers are now used to get rid of the stiff spring that put too much pressure on the followers rubbing on the cam chain. Some believe that the problem still exists even with the new hydraulic cam chain followers, but we are not seeing that at all.
Our opinion is that if you have an affected model that you take action as soon as you can and avoid the impending problem all together since you can't predict when it will happen.
The Fix #1 (Our 1st Choice):
Our suggestion is for you to get rid of the chain system entirely and switch to gear driven cams for the listed years. There are companies making aftermarket kits for this and without labor they cost around $750. The best thing is that you will get upgraded cams on top of the rest of the upgrade kit, thus more performance.  If you appreciate this Free content consider using our 2 Wheel Parts Supply Affiliate Link to purchase any of these kits (S&S Cycle Complete Gear Drive 510G Camshaft Kit) & help support us.
The Fix #2 (Our 2nd Choice):
Harley Davidson also sells an upgrade/fix kit for around $499 (example) without labor costs. Again, we believe that Harley Davidson should not be selling a "fix it" kit when it was their design problem in the first place, but it is what you may be stuck with. This HD kit does not change it to a gear driven system & you don't get upgraded cams. Instead, it comes with hydraulic cam chain tensioner and high-flow oil pump. Harley says that the high-flow oil pump provides increased oil pressure at high-operating temperatures. It changes the chain tensioner from spring to hydraulic. This is the standard fix that Harley dealerships will give you unless you want to go with the gear driven system and cams, which is again our first suggestion depending on you budget of course.
Email that spawned this episode:
Subject: Plastic Shoes with cam chains
Marc Littell of East Tennessee
First just wanted to say thanks for the great content you guys put out. I commute a couple hours to work on an airplane and the Law Abiding Biker Podcast is always playing. I am new to Harley's, I've had a few older metrics and always have had dirt bikes, and the service video was great inspiration in completing the service. It really is simple to complete after watching you guys tackle it on the video.

I have read about a potential problem with the plastic shoes associated with the cam chains. Do you have any info on this issue? This is a small quote from an article on JP Cycles.   "The problem is the design of the cam chain system. It uses plastic "shoes" riding on the cam chains that can (and do) wear out. Harley has made some changes in later model bikes, but even with the new hydraulic tensioning system, it is not a true fix."
Justin (Oscar's) Original Email Response:
I am very familiar with your question, I rode a 2006 Ultra Classic for three years.  Without knowing what you are riding I can tell you this:

1999-2006 Harley Davidson introduced the Twin Cam motor.  In order to run the valve train Harley went to a cam chain tensioner set up utilizing a spring loaded shoe putting pressure on the cam chain with push rods.  They also used, and I can' remember the technical name of the chain, an older chain design.  Indeed the cam chain shoes would wear out partly because of the shoe and partly because of the chain.  Harley recommended getting them checked between 35 and 40K miles.  Problem is they could give out ANY time and were not covered under warranty.  Generally when they go they break up and get sucked up into the oil pump.  This disrupts the oil flow and tells the computer the oil level is low.  This can shut the bike down.  I had not heard of any major engine problems as a result but you would need a new oil pump and new cam shoes.

The inspection and replacement of the inner shoe is expensive and involves removing the oil pump and cam, the outer one shoe is easier but you have to check both of them.  Our dealership wanted $400 just to inspect the shoes, which they wouldn't do because they said if they get that far into it they might as well just replace them.  I thought, why would I replace a faulty product with new faulty products.

Harley, of course, made a fairly expensive upgrade including a new oil pump and hydraulic cam chain tensioners run by the engine oil and re-designed shoes.  They also went to a new style chain.  The new design is very reliable and as of like 2009 I haven't heard of any problems with them.  Of course the upgraded kit was like $400 in parts and $400 to install.

I went with a gear drive cam in my 2006.  More specifically I went with the S&S 510 gear drive.  This eliminates the cam chains entirely and actually produces a little more horsepower by make the valve timing more accurate.  It was not noisy and the 510 cam produced awesome power with the stock 88ci motor.  It was even better when I went up to the 95ci.  Parts and labor was around $1500.00 which included new push rods and lifters, which is usually necessary.

Personally, in those year bikes, I would do the gear drive cam if you plan on keeping your bike for a while.  Some guys rode those year bikes and never had a problem.  Other's had problems at unexpected times.  Harley will tell you that if you are going to replace the shoes or do the upgrade you might as well do new cams, its no more in labor because the cam chest is already open, just the price of parts and a lifetime of reliability if you go gear drive.

If you have any more questions let me know, I researched the various cams, cam timing and cam lift as well as gear vs chain drive.
Other Email  Answered:
Scott Byram of Austin, TX
I watched your video on changing all the fluids.  I want to do this on my own and not rely on a dealership, at least for this basic stuff.  So from watching the video, its possible to change all three fluids with the bike on the kick stand.  I have been told the bike should be upright when changing fluids but from the video, leaving the bike on the stand works fine?  Did I get some bad information that the bike should be upright when changing fluids.
My Original Email Response:
So, it is not critical to have the bike level. Here is the deal: Do everything on the kickstand if you like. If you feel so inclined and after everything seems to have been drained, you can stand the bike up level for 15-30 seconds and get the last little bit out.  But, at the end of the day that is just going the extra mile. That is why you might hear someone say that the bike "has to be level".

Honestly, sometimes I do that if I remember, but at the end of the day it is not critical.
Release of another Free Video: