Podcast: Play in new window | Download | Embed
Subscribe: Apple Podcasts | RSS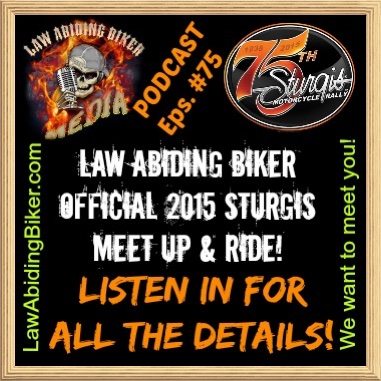 PODCAST-It is LawDog and I in the studio on the mics this episode and we break down the official 2015 Law Abiding Biker Meet Up in Sturgis, SD this year! You really need to get involved with this event if you are going to be at the 75th Anniversary of Sturgis this year. We really want this to be an awesome meet up and ride! Many of the faces you see on our videos and the voices you hear on our podcasts will be at the event.
There will be prize drawings too and there is a limited number of tickets available (25). There are two separate meet ups; One exclusive private meet up for Patrons only and a second meet up and ride for regular listeners of the show. If you've ever thought about becoming a Patron, now would be the time to do it! If you are a Patron supporting our YouTube Channel and Podcast, it is not necessary to purchase tickets. The exclusive private event is on us and you are invited to the regular listener meet up and ride the next day at no charge. Patron's, please email us ASAP and let us know if you will be at the private exclusive event and/or the ride the next day. Listen in and hit the link below for further details.
Exclusive Private Patron Meet Up:
The exclusive private Patron meet up will be on Monday August 3, 2015 at 6:30 pm at a location in Rapid City, SD, which is about 30 miles away from Sturgis. Email us ASAP  if you are a Patron and will be attending. We will communicate the exact meet location with you when Sturgis nears.
Regular Listener Meet Up & Ride! ($25 ticket purchase required)
If you are a Patron, please don't purchase any tickets for this event-no charge for Patrons to attend this event.
All others will need to purchase a $25 admission ticket (limited to 25 ticket sales), so get signed up quickly before they are gone.
The regular audience ameet up and ride will take place on Tuesday August 4, 2015 and start at 8:30 am at a location to be announced in Rapid City, SD. We will meet up, converse, and some prize drawings will be given out at this location. This is a great opportunity for us to get to know you.
At 9:30 sharp we will head out for a 90 mile previously routed motorcycle ride around Sturgis, which will include Crazy Horse and Deadwood. This is a custom ride put together by LawDog.  Several stops will be made during the ride and prizes will be given out!  After ticket purchase you can download your official .pdf admission ticket. Just prior to the event date, ticket holders will receive an email and .pdf download giving the exact meet up location in Rapid City, SD.
Patrons who are involved with the exclusive private meet up the night before will be told the meet location for the next day.
Need a motorcycle cell phone or GPS mounting solution Bikaholics?

That's right, Law Abiding Biker Media put our logo on these mounts & we personally use them on our motorcycles!

The sexiest, lightest, and strongest mounts available period.
Good prices and fast shipping from our store?
Check out our COMPLETE REVIEW
Limited to 25 tickets for the regular audience meet up:
We are limiting ticket sales to attend the regular audience meet up to 25 tickets. This is for rider/participant safety and logistical reasons. Sturgis and surrounding areas during this time are extremely busy. We want to make it a pleasant & safe experience for all those that do purchase tickets.
We hope to see you in Sturgis this year! We really love meeting bikers from all over the world! Join the law abiding biker revolution and get involved!