Podcast: Play in new window | Download | Embed
Subscribe: Apple Podcasts | RSS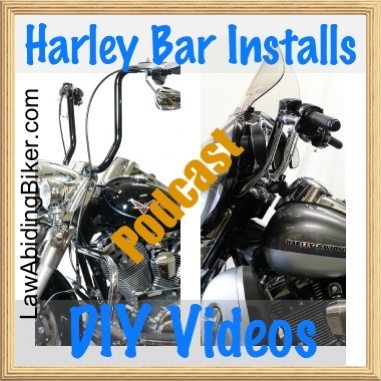 PODCAST-In this episode we discuss in depth everything you need to know about installing aftermarket handlebars on your Harley Davison motorcycle. That means everything from drag bars, to mini ape hangers, to tall ape hangers. We filmed multiple Harley handlebar install tutorials in the Law Abiding Biker Garage that walk you through this process step by step. That's right, videos by bikers for bikers.  Bikers all over the world are saving money and not taking their Harley Davidson to a dealership or other mechanic to do a handlebar install. The fact of the matter is that with our videos you can do it right in your garage, shop, or patio right on the kickstand. We have you covered whether you have a Harley with a fairing or without a fairing. It doesn't matter if you have the same exact Harley year or model that we used in our videos. Harley has kept things basically the same as far as handlebars and simple wiring harnesses over the years.
Official Harley Handlebar DIY Install Videos
Don't get stressed or too concerned about wiring during your handlebar install. We talk about the different handlebars, wiring kits, and methods of installing handlebars. We have done many handlebar installs on Harley Davidson motorcycles over many years and all that experience went into our tutorial videos of course. As you listen in to this podcast episode you will learn everything you need to know before you purchase handlebars, a wiring kit, or brake or clutch cables/lines. We go over whether or not you need to extend clutch cables/lines or brake cable lines depending on the height of the handlebars you plan on installing. In our videos we show you how to extend a hydraulic clutch line and a cable clutch line depending on your specific needs.
If you are installing handlebars then NOW is the best time to install heated grips on your Harley. (one of the best things I ever did)
We talk about wiring in depth in this episode and break down the wiring kits that are available and how they work. There are multiple companies selling what they call "quick plug & play" wiring kits and they are really all the same. At the end of the day you are just extending your control cluster wiring harnesses on both handlebars and the throttle by wire if you have an electronic throttle. Some may believe this is complicated, but in our videos we make it painless and it is. Harley kept the handlebar OEM wiring basically the same over the different years and models, so don't get caught up if in our videos we use a different year or model. It is as easy as the differences between a fairing model and a model without a fairing. Don't make it any more complicated than that. Pick the video that is right for your project.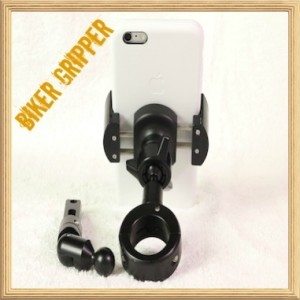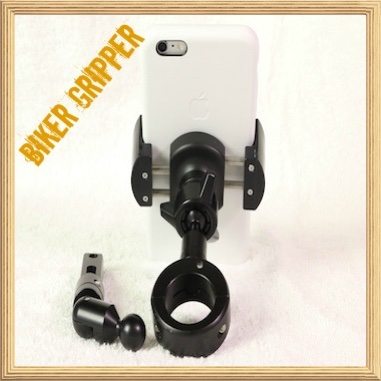 Our Custom Biker Gripper Cell Phone & GPS Mounts
Need a motorcycle cell phone or GPS mounting solution Bikaholics?

That's right, Law Abiding Biker Media put our logo on these mounts & we personally use them on our motorcycles!

The sexiest, lightest, and strongest mounts available period.
Good prices and fast shipping from our store?
Check out our COMPLETE REVIEW
We even go over the very few basic tools you will need to have on hand and talk about the benefits of soldering instead of using quick connect kits. Yah, we even show you how to properly solder in our videos in case you want to go that route. You really need to listen into this episode to get all the facts and details. If you have been wanting to know more about installing handlebars on your Harley Davidson then this episode is for you & you won't find better more thorough information than right here. Save your money and do this project yourself. Let us show you how!
New Free Stage One Air Intake Install Video
New Patrons:
Rusty Dean Roberts of Gallatin, TN

Gary Zakarin of New York, NY
Lorenzo TeCube of Dulce, NM
Kevin Braunschweiger of Pawtucket, RI