Podcast: Play in new window | Download | Embed
Subscribe: Apple Podcasts | RSS
Podcast-Hang on as we have another law abiding biker motorcycle club interview for all you Bikaholics.  In this episode I have the pleasure of speaking with Paul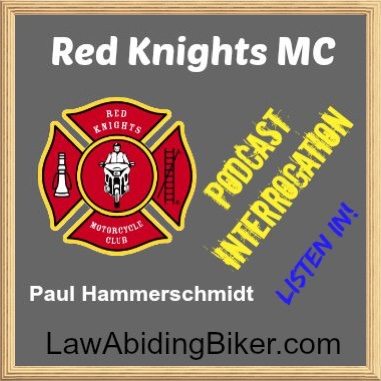 Hammerschmidt (AKA: Chicken Wing), who is the Vice President of the Red Knights WA II Firefighter's Motorcycle Club. The Red Knights WA II Chapter is based out of the Spokane, WA area. We really break it down from how the Red Knights Motorcycle Club came into existence, their struggles, their accomplishments, their ideologies, their beliefs, and just what makes them tick.  We dive further into what it may take to become a member of their club and how to get in touch if you are interested.
All law abiding biker clubs should be jumping on this platform and setting up a simple podcast interview, so we can all learn from each other. Clubs that do so get on the exclusive Law Abiding Biker Club Page. And you get a permanent link directly to your very own interview and page. You will always be able to send prospective members or anyone interested in your club directly to your episode! Get a hold of us on our Contact Page Now and schedule your interview.
The following is approved by Red Knights WA II Vice President Paul Hammerschmidt:
We are a club for members of the fire service, and their families, who enjoy riding motorcycles.
At present, a minimum of seven firefighters are required to Charter a new Chapter but we have hundreds of Members-At-Large.
Membership is open to all firefighters; active, retired, volunteer, professional or industrial, who have access to a motorcycle and hold a valid motorcycle driver's license.
These three items are the only requirement for membership. An individual member is never required to purchase any Red Knights® patch or any other Red Knight® regalia especially as a requirement of membership.
If a member chooses to purchase a Red Knights® patch or other regalia, it is the property of the individual and is not required to surrender it upon the individual's retirement from the Red Knights®.
The Red Knights International Motorcycle Club® does not allow prospecting for members. There is no probationary period for Active members in the Red Knights®. There is no "granting" of patches in the Red Knights®. The right to become an Active member in the Red Knights® and to wear any Red Knights® regalia is earned by being or having been a Firefighter.
If a person is voted into a Chapter, after credentials are checked, or joins as an MAL, that person has immediate full membership rights and may purchase and wear any Red Knights® regalia.
Spouses, partners, member's children, brothers and sisters and parents are welcome as Social or Junior Members.
Contact Info & Social Media:
New Patrons:
Mark Shadden of Abilene, Texas
Rick Kemner
Robert MacInnis of Toronto, ON, Canada

Darren Rohan of Staten Island, NY
Irving Marrero of Brooklyn, NY
Dan Jaffurs
New Free Video: