Podcast: Play in new window | Download | Embed
Subscribe: Apple Podcasts | RSS
Podcast-The main topic of this episode is a discussion and our thought on the recent History Channel's "Outlaw Chronicles: Hell's Angels" series. This is for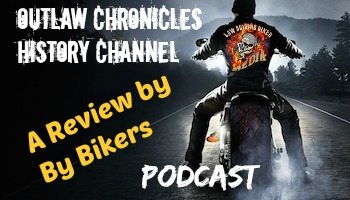 entertainment purposes only and in no way do we support any sort of illegal behaviors or activities by any motorcycle clubs.
This story seems to be very one sided and it is based on ex-member George Christie Jr's recollection of events. There seems to be no verification by any other sources about some of his recollections.  Christie is said to be the longest serving President the club has ever had. He was heading up the Ventura, CA chapter when he left the club and has been ordered to have no contact with existing club members.
Based on Christie's website and other activities on social media it appears he is trying to go full steam ahead to cash in on his experiences.  Listen in as we discuss the series and give our take on things. It is a great conversation we had.
Other Topics:
We also have special guest Matt Passalacqua via Skype from California who just attended the 21st Annual Street Vibrations Rally. He gives good insight into this event and wether or not bikers should attend. Matt also recently traded in his metric bike and purchased a Harley Davidson. He tells all about his new ride and his experiences.
New Patrons:
Wayne Gale of Vancouver, WA
Mick Shere of Exeter, Devon – Great Britton
Steven Stratton of Stockton, CA

Dale Ryba of Raleigh, NC
James Penry of Fairhope, Alabama
Torrey Bowers of Ladson, SC