Podcast: Play in new window | Download | Embed
Subscribe: Apple Podcasts | RSS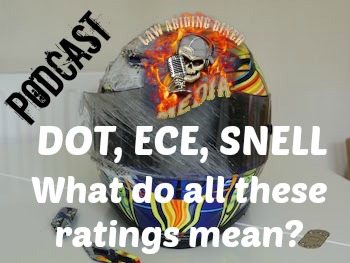 In this episode we talk in-depth about the different motorcycle helmet ratings out there & that crazy sticker on the back of your helmet. This can be confusing and not everyone completely agrees on every aspect of motorcycle helmet ratings and testing. As usual we break through all the smoke and explain it in a way bikers can understand. No longer will you need to be confused on helmet ratings and what they mean for the average every day biker out there.
We got your back on this and you need to listen in to get the complete breakdown. This episode was spurred from a post that one of our Patrons, Dar Cheng, left in our Private Patron Only Facebook Group. Become a Patron and get in on that group.
At the end of the episode we do a rountable and give our thoughts on all that surrounds mandatory helemt laws.  You'll definietly want to hear this.  Below are some notes and points we hit on in this podcast episode.
If you purchase a new helmet or any motorcycle gear, please consider doing so through one of our affiliate links below. No additional cost to you.
Related Links:
Three Most Popular & Respected Motorcycle Helmet Ratings:
DOT

Known as DOT (Dept of Transportation)
Federal Motor Vehicle Safety Standard
First issued in 1974 & has been updated
All U.S. helmets must meet this to be used on public highways in States that have laws
DOT is "random" testing after the helmet is released to the market
Trust based:

manufactuers test themselves to make sure helemets meet standards

SNELL

Private non-profit
Issues its own motorcycle helmet standard
Voluntarily:

Manufacuters have to apply for and be approved

Many of the same tests and standards as the DOT

However, harder testing to receive a SNELL standard

SNELL will not test or certify modular motorcycle helmets

ECE

Economic Commission of Europe
Mandatory standard in Europe (like DOT in United States)
Comes from the United Nations Economic Commission for Europe
Most common standard around the world
Manufacturers in the U.S. wishing an ECE rating must submit an application
ECE requires mandatory "batch testing" of helmets before they leave the factory
If helmets is deemed certified per any of the above standards, information is then placed inside the helmet somewhere, indicating manufacturer information and date, model name, size etc. And a sticker is placed on the outside rear of the helmet indicating its certification.
These four tests seem to be standard for each rating. (tests are harder for certain ratings such as SNELL & there are )
Impact Attenuation

Attenuation defined:

Attenuation defined:

a decrease in a property, as energy, per unit area of a wave or a beam of particles, occurring as the distance from the source increases as a result of absorption, scattering, spreading in three dimensions, etc.

Helmet is dropped onto a round anvil
Anvil defined:

a heavy iron block with a smooth face, frequently of steel, on which metals, usually heated until soft, are hammered into desired shapes.

And dropped onto a flat hard surface

Penetration Test

Object dropped onto a stationary helmet

Retention System Test

Tests chin strap and D-rings to maintain their position under tension
DISAGREEMENTS BETWEEN STANDARDS

EPS=Expanded PolyStyrene (styrofoam in helmets)

EPS: EPS Expanded PolyStyrene is one of the most widespread foams used in our society. It is the white picnic cooler foam that you see eggs and stereo gear packed in. It is the peanuts in your mail order package. It is the white food carton or drink cup you get at a carry-out. It is cheap to manufacture, light, and has almost ideal crush characteristics with no bounce-back to make the impact more severe. It can be reliably manufactured with reasonable quality control procedures.

SNELL (theory) believes that the thicker the EPS the more the protection

However, the thicker EPS liner makes the helmet heavier

ECE (theory) believes less EPS makes the helmet lighter

Thus, less intertia during an impact
reducing head, neck, clavicle, and back injuries
New Patrons:
Castor Rodriguez
Troy Gilleylen of Battle Creek, Michigan
Paul Fullerton of Arvada, CO