Podcast: Play in new window | Download | Embed
Subscribe: Apple Podcasts | RSS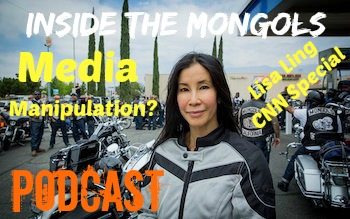 Podcast-In no way does Law Abiding Biker™ Podcast & Media promote or support activities by any outlaw criminal motorcycle gangs (OMG's). We are simply reporting on the recent one hour CNN special called "Inside the Mongols Nation", which was hosted by Lisa Ling. We had numerous emails requesting we cover the story and put truth and perspective to it. We listened to our audience and recorded this podcast episode for that reason.
We take a fair and balanced approach & have much insight and perspective into what is fact and what is fiction based on our experiences. There were many facts that were reported in the CNN special and also many things that make little or no sense. To be fair to Lisa Ling, she has no experience with OMG's and that makes it much harder to decipher the truths.
Make note that we have never reported that every single biker in every criminal outlaw motorcycle gang is committing daily criminal acts. That would make us like them to assume and place broad stereo types. However, it is fact based on history and evidence that there are factions within these outlaw 1%er clubs that are committing and continue to commit criminal acts to include murder, assault, extortion, racketeering, robbery, & drug trafficking just to name a few. And it is tolerated within the clubs and many look the other way.
Organized motorcycle gangs are becoming much more astute when it comes to the Racketeering Influenced and Corrupt Organization Act (RICO). You'll here it when criminal indictments are handed down on individual outlaw club members. Leaders in these biker gangs will say such things as…….that may have occurred, but the club did not know about it. RICO allows the Federal Government to go after entire criminal organizations such as outlaw biker gangs to dismantle them.
It is a cat and mouse game and by keeping things loose in the club and letting smaller groups conduct criminal acts it does not involve the "organization" as a whole, thus helping avoid RICO prosecution. Attorneys for these biker gangs have trained leaders on what to say and how to help avoid RICO.
Lisa Ling believes she had "exclusive" & "unprecedented" access to the Mongols for this special, but we find out quickly that is not the case. In fact, she was not allowed in a closed-door meeting and that is certainly not full access and leaves much to be speculated on. It is humorous at best when she tries to talk with club members, who just chuckle and say nothing of importance.
The Mongols MC National President Dave Santillan, who also goes by Lil' Dave, seems to have organized this public relations attempt. Even he doesn't answer many of Ling's questions during the few times she asks serious questions backed by evidence. He steers away from them, becomes very uncomfortable, and his body language speaks for itself.
Many criminal outlaw biker gangs have been manipulating main stream media for many years now and this is nothing new. It is a public relations move that Dave Santillan is now attempting.  Outlaw clubs like this use main stream media to have them see what they want them to see in hopes of bettering their overall image to the general public. It's actually a really brilliant move and does work for them many times. I'm not surprised that Santillan sought a left wing liberal media outlet like CNN, because Fox News certainly would not have been manipulated like this.
Lisa Ling and CNN were clearly not given access to complete a true and full story of the Mongols, but I give Ling credit for trying. She did a good job with the limited information she was allowed to gather and see. Even she says she can only draw conclusions on what she was "allowed to see" by the Mongols MC.
Although we think that it was a good attempt at manipulating the media, in the end it appears to be a failure. Based on Santillan's and other club members lack of responses and evasiveness to valid questions, it leaves the public even more suspicious in our opinion.
New Free Tutorial Video:
New Patrons:
Chris Watson of Tampa, FL
Don Malcolm of Auckland New Zealand
Jeffrey Cagle of pheonix, AZ


Steven Small of Hagerstown, MD
Murray Aldous of Milford, NH
Patrick Thompson of Las Cruces, NM