Podcast: Play in new window | Download | Embed
Subscribe: Apple Podcasts | RSS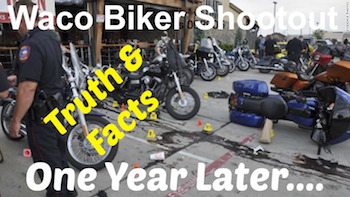 Podcast-Many of you requested we do a follow-up podcast episode on the violent criminal biker gang shooting that occurred in Waco, Texas at the Twin Peaks Restaraunt on Sunday, May 17, 2015 that left nine bikers dead and many others hospitalized. We listened and go in depth in this two-part podcast series. Don't forget to listen to podcast episode #78 & read the article we released shortly after the incident.
It has been about one year now since these violent acts took place between the Bandidos Motorcycle Club and the Cossacks Motorcycle Club. These motorcycle clubs are designated as outlaw motorcycle gangs (OMG's). The Bandidos claim 1%er, but the Cossacks do not. The clubs were both present at the Twin Peaks Restaraunt to attend a Confederation of Clubs (COC) meeting. The Bandidos control the Texas COC and want the Cossacks to pay them dues.
The Cossacks refused to pay the COC dues and also decided to start wearing a "Texas" bottom rocker on the back of their vests, against the advice of the Bandidos. The Bandidos MC believes only they have the right to wear that Texas rocker. There had been many documented violent feuds between the clubs leading up to this shootout. The Cossacks claim they were at the COC meeting to ask for a truce.
154 out of the 174 bikers arrested that day have been indicted for engaging in organized criminal activity. Most are out on bail and it will be some time before many ever see a court room. It is a large-scale investigation that is ongoing. Over 1000 weapons were recovered throughout the crime scene. Guns, knives, brass knuckles, hammers, tomahawks, machetes, bullet proof vests, and even an AK-47 assault rifle were recovered. These criminals hid guns in bags of potato chips, between bags of flower, and tried to stuff them down toilets.
In the words of Sgt. Swanton of the Waco, Texas Police Department, "They were not here to eat barbecue and drink beer". I agree with his thoughts that these criminal biker gangs were there for trouble. It is clearly demonstrated by the amount of weaponry recovered and the way they were hidden. This kind of evidence shows these clubs true intentions.
Shortly after the Waco incident, Bandidos National President Jeff Pike and several other top Bandidos leaders were arrested and federally indicted. Not for the Twin Peaks incident, but for a federal investigation that was already ongoing. The indictments were for assault, murder, and extortion. Pike stepped down as the President and is out on bond awaiting trial.
The police did everything they could to warn Twin Peaks management of the dangers of holding more biker events, due to the mounting violence between clubs. But, they disregarded warnings and went on as usual. One former Twin Peaks waitress has spoken out and witnessed Police telling management of the dangers.
Police had no authority to shut the Twin Peaks down and had to standby with forces outside the event. Their hands were tied and their fears came true. These criminal bikers even opened fire at the police during the shootout and it should be no surprise that several criminal bikers were likely shot & killed by police. However, the ballistic reports have not yet been released.
In fact, Bandido MC member Jake Carrizal has publicly stated on a CNN special that it appears police shot a man that was clearly going to shoot him. Carrizal is likely alive, because of police protection and their swift action. A simple thank you to the police would be nice for saving his life. We will have to wait for ballistic reports to confirm this. Carrizal was directly involved in the start of this brawl and can be seen on video surveillance.
Former Bandidos National President Jeff Pike is ignorant enough to say that all would have been fine had one uniformed police officer been inside the restaurant walking around. These criminal bikers knew SWAT and police were all around the restaurant and still opened fire on each other. Clearly, a uniformed officer would have stopped nothing and put that officer in great danger.
Of course, there are those bikers arrested complaining. Many complain and shift blame as usual. Honestly, I don't know the merits of each case nor the details of each, nor does anyone else except those involved with the actual investigation. I will say that if you are going to attend events with rival 1%er clubs clearly present then you may be putting yourself at risk of being in the middle of fights & the possibility of being criminally investigated.
This is just the start and you'll have to listen in to this two-part podcast series to get all the facts and details.
In this podcast episode, we reference a CNN special titled "Biker Brawl: Inside The Texas Shootout".
New Free Video Release:
New Patrons:
Paul Quitaldi of Clermont, FLORIDA
Max Croley of Greenville, TX
Dennis Doyle of Batavia, OHIO
Jason Oldham of Warsaw, IN
J. Adam Le Femina
Gregory Jones-Armed Forces


Daniel Varga of Lincoln, Nebraska
Wayne Dunham of Saint Ann, IL
Kris Brown of Claremore, Oklahoma
Join the Free Email Club!
If you appreciate this free information make sure to join the thousands of law abiding bikers that have already joined the free Email Club! You will be notified of new useful motorcycle content and techniques as we put them out. Join the Community now!