Podcast: Play in new window | Download | Embed
Subscribe: Apple Podcasts | RSS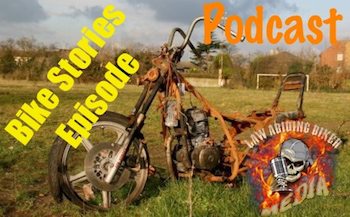 Podcast-In this podcast we tell a very cool story of Patron Cody Case of Myrtle Creek, OR. He called in and bought us pizza before we went live for this episode. He wanted to feed the Law Abiding Biker Media crew & we appreciate it very much. We also play a recorded phone conversation we had with Cody. If you haven't experienced the Live Broadcasts, make sure to do so. We have live chat and it is a whole different experience.
On hand via Skype was special guest Gregory Gaxiola from California. Greg became the very first Patron supporter of Law Abiding Biker™ Media several years ago and is now a top-tier supporter! We met up with Greg Gaxiola a few years ago on our summer motorcycle trip to California. He even took a short ride with us and attended a barbecue at a private residence we were staying.
Greg has many years of experience inside the general law abiding biker scene. He has been riding most his life and has owned a plethora of bikes. Everything from metric to Harley Davidson. Greg tells stories of some of the bikes he has owned and what he thought of them. There is a lot of good information in this episode and at the end Greg tell's what his favorite bike to date is.
Out of all the bikes Greg has owned and ridden, he chooses his 2015 Harley Davidson Street Glide Special as his #1 pick! You'll have to listen in to find out why he chose it.
New Patrons:
Cody Case of Myrtle Creek, OR
Andrew Sivetts of Highlands Ranch, CO
Peter Hamilton of Kehei, HI
Bob Cram of Edmonds, WA


Dan Taylor of Alexandria, VA
Paul Guinta of Somers Point, NJ
Kenneth Froschheiser of Thief River Falls, MN
Biker Gripper Custom Mounts
Several models to choose from
Join the Free Email Club!
If you appreciate this free information make sure to join the thousands of law abiding bikers that have already joined the free Email Club! You will be notified of new useful motorcycle content and techniques as we put them out. Join the Community now!