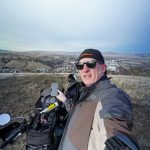 The Biker Gripper is the strongest, sleekest, and by far the best adventure riding cell phone mount on the market. I have been using this motorcycle cell phone mount for 6 plus years now. Prior to this year, I had exclusively used it for street motorcycle riding. Now I'm using it for adventure riding too! (see video below for testing and review)
Testing:
I use the Biker Gripper daily at my job as a Police Motorcycle Officer and have it mounted to my Harley-Davidson Electra Glide that I ride. I also have it on my personal Harley's, such as my Street Glide Special. I have yet to see a cell phone come out of the Biker Gripper mount even after seeing multiple low side and high side crashes and everything in between. That's because the Biker Gripper motorcycle cell phone head has 18 lbs grip strength!
I was excited to thoroughly test the Biker Gripper as an adventure cell phone mount solution when I got a 2018 Kawasaki KLR 650. I had no doubt it would stand up to the test and it over-performed in every situation we put it through. While testing the Biker Gripper, we rode dirt roads, fire roads, trails, and dirt tracks. I personally watched two crashes while off-road adventure riding and the phones stayed secure in the Biker Gripper!
Beware of the online junk:
When I started getting into adventure riding, I could not believe the amount of junky and clunky motorcycle cell phone mounts that riders were using. It's as if they just didn't look around for a good solution. I'm talking about big clunky and ugly "x" type mounts that take up 1/2 of a motorcycle dash and are just in your face. It's like no thought went into some of these other cell phone mounts. Many of these other mounts also require straps to keep your phone in. That means every time you want to remove your phone you have to remove bands or straps. Several other companies have popped up and require proprietary cases with swivel mounts etc. It's as if no thought went into designing these mounts? And most of these other mounts are not made in the USA like the Biker Gripper is. Do you trust your $1,000+ smartphone in one of these flimsy cell phone mounts made by a company you've never heard of? Do they even ride motorcycles?
The Biker Gripper: (Made in the USA)
With the Biker Gripper adventure cell phone mount you can use any cell phone case you want. And, it will fit the largest versions of iPhones, Samsung phones, and all others. The grip range of the Biker Gripper head is 1.9" to 4.2". Your phone comes in and out of the gripper head easily and quickly. It is very sleek and takes up very little room compared to others.
There are several options for mounting the Biker Gripper to your adventure or dual-sport motorcycle. First, you can use the perch/control mount to secure it to either side of your controls. You just remove the stock 1/2 clamp and replace the stock bolts with the provided bolts. The kit comes with a few different spacers, metric bolts, standard bolts, and hex-head wrenches. The kit is universal and has everything you need. You can also use the perch/control mount option to mount it to any location where you can drill holes as I did not my KLR 650 dash. I show you what I did in the video below.
Second, you can use our universal bar mount option. This clamp mounts to any round bar 7/8″ to 1 1/4″ inch. The kit comes with clamp spacers so you can fit it to those specified bar sizes and also includes hex-head wrenches for installation.
Both the perch/control mount and the universal bar mounts come in either chrome or black and the kits include the Biker Gripper head unit. The kit includes everything you need and you'll have it installed in no time.
Additional:
The body of the Biker Gripper is injection molded using Dupont Delrin Acetel resin thermoplastic and your electronic device is held securely in place with polyurethane fabric to prevent scratching and four stainless steel springs with an 18 ­pound grip.
Each Biker Gripper motorcycle cell phone mounting system is crafted in the USA through a patent CNC process using high-quality aircraft grade aluminum making your mounting system more lightweight, much better looking, and most importantly more durable.
Join the Free Email Club!
If you appreciate this free information make sure to join the thousands of law abiding bikers that have already joined the free Email Club! You will be notified of new useful motorcycle content and techniques as we put them out. Join the Community now!