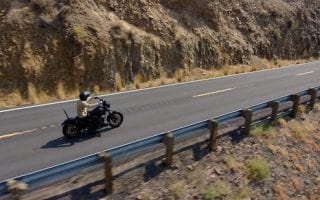 With the drone market booming and the technology advancing rapidly, there are many options to choose from based on your needs. As a filmmaker, I can tell you that there's nothing easy about tracking motorcycles with drones to get great cinematic footage. Like everything, it takes much practice and dedication over time. Oh, and the willingness to crash a few drones in the process. However, there are now drones that claim they will "auto track" your motorcycle and that's what I decided to test for the biker community. (see video below)
Understand, there is no perfect camera, drone, or tool for filmmaking or even for a hobbyist who just wants some basic shots. The drone or tools you choose will have to fit your particular needs.
I urge everyone to first get a drone, become licensed, and learn how to properly and safely fly a drone manually. Especially a drone you can actually get into attitude mode so you can really be in control and learn the flight characteristics. To get great cinematic shots you really must fly your drone manually so you can frame the exact shots you want and perform the maneuvers you want. No autonomous drone will get the same shots you can when manually flying. If you think you're just going to go buy an autonomous featured drone and auto-track your motorcycle and get great shots then your sadly mistaken. One big drawback to using auto-tracking is that you don't have manual control over your camera settings and you must rely on the auto features. I'm not a big fan of that.

However, drones with autonomous flight features do have a place in my toolbox and are used at times. Sometimes I just need a quick shot for a YouTube video I'm working on and perfect framing is not critical. I can quickly put the drone with auto-tracking in the air and get a few basic shots without any assistance.
I have flown a plethora of different drones over the years while making films, but for my tests I used a DJI Mavic Air 2 and a Skydio 2, both claiming to have great auto-tracking and obstacle avoidance capabilities.
DJI Mavic Air 2 for Auto Tracking Motorcycles:
The DJI Mavic Air 2 ultimately failed during my tests while auto-tracking and eventually crashed, flying straight into the ground (see video below). I have tried auto-tracking with DJI Mavic series drones over many years and they are just plain unreliable. Sometimes they track you and most times they don't unless you're just walking. DJI Mavic series drones have trouble locking onto a motorcycle and staying locked on it. If you're lucky, you'll get it to lock on you and then get a very short clip before it loses you. This happens even in regular flight mode and while going slow. If you want to go into sport mode and track faster then you lose all obstacle avoidance.
Affiliate link below. No additional cost to you, but if you click through and make a purchase, I get a small commission. It helps support me.
PURCHASE A MAVIC SERIES DRONE HERE
However, where DJI Mavic series drones shine is in manual flight modes. I own several Mavic's and they are a dream to fly. They are very responsive and you can really fly precisely with the control you have with the controller sticks. I don't rely on the DJI Mavic series obstacle avoidance as it's not reliable or very precise. I use it as a backup system at best.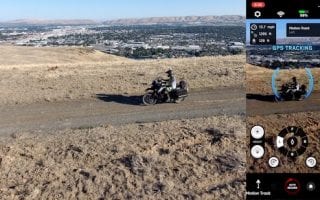 Skydio 2 for Auto Tracking Motorcycles:
The Skydio 2 still baffles my mind at how it can auto-track my motorcycle and quite honestly I did not expect that it would be this good! It locks on my motorcycle almost every time. It did lose me once during testing while riding in the mountains with many trees. It is rock solid and can track me at up to 36 mph without losing its superior obstacle avoidance capabilities. These avoidance systems are so far superior to the DJI Mavic and after testing I now fully trust them. It literally won't crash and goes around everything. Of course, within reason, because something very thin like a power pole wire could fool it. It can only detect items of a certain thickness.

The Skydio 2 was specifically designed to be autonomous and I strongly encourage you to get the additional beacon upon purchase because it is one of the reasons the Skydio 2 auto-tracks so well. Like the DJI Mavic, you are image tracked with the Skydio 2. The difference is, when the Skydio 2 loses the image track on you it then relies on the GPS signal from the beacon so it can essentially track you without seeing you at all. The DJI Mavic does not have this capability, so when it loses the image track it stops tracking you. Without the beacon, the Skydio 2 would be relying solely on image tracking like the DJI. I did not personally test the Skydio without the beacon in play and I would strongly encourage you to buy it as an add-on at the time of purchase.
However, the Skydio 2 definitely lacks performance during manual flight. I got the additional controller with the Skydio because controlling any drone with only a smartphone is not a great experience and flight distance will be greatly reduced. The Skydio's controller seems like it was a bit of an afterthought and feels cheap. The sticks are not nearly as precise as a DJI Mavic controller and you just can't get the same fine flight maneuvers out of it. The Skydio is not nearly as agile in the air as the Macvic drones and flys like a tank for lack of a better description. With that said, you can still get some manual flight shots, but you'll be a bit limited in my opinion. (see video below)
Summary:
For manual flight shots or manually tracking motorcycles, I'll stick to the DJI Mavic series drones.
For any quick motorcycle auto-tracking shots I would choose no other than the Skydio 2 as it is so far superior to DJI in this category. I'm excited to use the Skydio 2 a bit more in my productions where it fits.
Join the Free Email Club!
If you appreciate this free information make sure to join the thousands of law abiding bikers that have already joined the free Email Club! You will be notified of new useful motorcycle content and techniques as we put them out. Join the Community now!