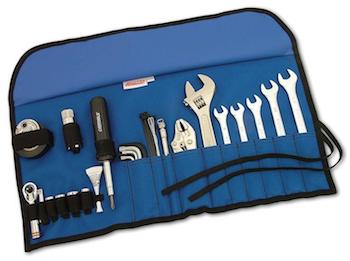 Video-This is a review and overview of the CruzTools Roadtech RTH3 Emergency Roadside Tool Kit for Harley-Davidson. If you want the most comprehensive tool kit for your Harley or American made V-Twin, then look no further than the RoadTech H3. It includes top-grade combination wrenches, an adjustable wrench, locking pliers, tire gauge, hex and star wrenches, 6-in-1 screwdriver, threadlocker, mechanics wire, cable ties, spark plug socket, and more. But you'll also love the way-cool mini ratchet and socket set, making this the last tool kit you'll ever need to buy.
GET A CRUZTOOLS EMERGENCY MOTORCYCLE TOOL KIT IN OUR STORE (Support us!)
I carry this tool kit on my personal Harley-Davidson Street Glide Special, but also day to day on my Police Harley Electra Glide. These tool kits are trusted by Police Motor Officers worldwide. This is our go to tool kit here at Law Abiding Biker Media.
Includes:
3/8″, 7/16″, 1/2″, 9/16″, 10mm combination wrenches
8″ adjustable wrench
Locking pliers
5/8″ (16mm) spark plug socket
1/8″, 5/32″, 3/16″, 5/16″ hex keys
T25, T27, T40 Torx keys
6-in-1 screwdriver with bits
Mini ratchet
3/8″, 7/16″, 1/2″, 10mm socket set
2″ ratchet extension
Spark plug gap gauge
Electrical tape
Mechanics wire
Threadlocker
Tire pressure gauge
Zip ties
Roll-up polyester 3.5″ x 9.5″ case