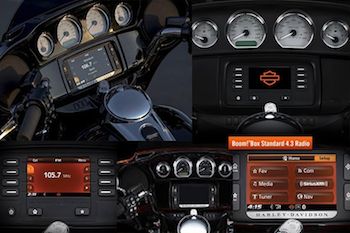 VIDEO & BLOG-If you have been listening to the Law Abiding Biker Podcast or have viewed any of my Harley Davidson Boom!™ Box Tutorial Videos then you know that overall I am a huge fan of the new integrated infotainment system that Harley Davidson Project Rushmore came out with. I have been labeled a Boom Box expert and continue to make the very popular tutorial videos as things are changed and updated. I have taught many thousands to use the Harley Boom Box system from the ground up and received an overwhelming amount of positive feedback from the biker community!
Boom Box Tutorial Videos:
Boom Box GPS Trip "Record" Function:
Many have asked about the trip "record" function, which is located if you go to the main menu->Navigation->Map. Once viewing the GPS map and you location toggle over to the lower right of your screen where you will see the main Map menu icon. Push in on that, scroll down, and you can check or uncheck the record option.
I tested the trip "record" functionality thoroughly and am fairly disappointed. In fact, it is really just a waste of space at this point in the overall Boom Box system. I was hoping over time in the software updates that come out regularly that they would add and fix this feature, but they haven't. Note: Check out my software and map update tutorial video and always make sure you have the latest version of software.
You will quickly learn when using the "record" function that when activated it leaves a highlighted green line in the route that you ride and trails behind you. When you get from point A to point B you can see the overview of the exact route you rode. Unfortunately, it pretty much stops there. If you turn your motorcycle off for a few minutes and then start it back up the route is erased and the trip "record" button automatically unchecked.
Further, if you leave your motorcycle ignition on and want to look at the route you can. You can use the touch screen and move the map around, zoom in, and see the names of the roads you took. I suppose if you wanted to you could write on a notepad the roads and route, so you could later go to Harley Ride Planner on your computer and recreate the ride. You could then download the ride from you desktop/laptop computer to a memory stick and then upload it into the Boom Box. Note: Here is my complete tutorial video on the Harley Davidson Ride Planner and how to use the online resource, download a created ride, and upload it into the Boom Box. This has become a hugely successful video.
Export/Import:
Most disappointing, is the fact that even if you drove from point A to point B without turning your ignition off and wanted to store and name that ride locally you can't. Worse, is that you can't even export the ride/route to a memory stick to upload to Harley Ride Planner!
So, until this is updated or fixed I give this function a big thumbs down for the Harley Davidson Boom!™ Box Infotainment System.
Check out all the FREE and FOR PURCHASE quality videos here at Law Abiding Biker Podcast& Media!
Free Email Club:
If you appreciate free information and techniques like this make sure to join the thousands of law abiding bikers that have already joined the free Law Abiding Biker Podcast & Media Email Club!! You will be notified of new useful motorcycle content and techniques as I put them out. Join the Community now!

Keep the rubber side down and the shiny side up!