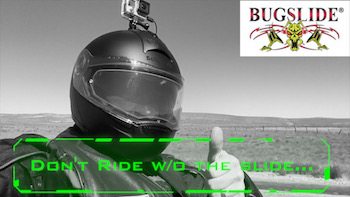 Video-I recently went on a 6 day 2700 mile motorcycle trip on my Harley Street Glide Special from Washington State and ultimately ended up in Colorado. We were riding very long days and of course, the bike took a beating with bugs, dirt, and grime over several days.
I got to Colorado and wanted to spend some time there riding around and exploring. Many bikers think you have to just to ride with a filthy motorcycle the rest of a trip as there is no easy way to wash it or they have no room to carry the proper supplies.
Well, it's super easy for anyone to clean their motorcycle during a road trip if they are carrying Bugslide & a micro-fiber cloth! That's my #1 go-to waterless motorcycle cleaner as is it for the entire Law Abiding Biker™ Crew. You can get Bugslide Waterless Motorcycle Cleaner & Polisher in the Official Law Abiding Biker™ Store.
On motorcycle road trips, I prefer to carry the 4 oz Bugslide Travel Kit and it comes with a high-quality micro-fiber cloth. It easily fits in my saddlebags and doesn't take up much space. That little bottle of Bugslide lasted my entire 6-day trip, cleaning my Harley every other day. I still had some left in the bottle when I got home and a little goes a long way.
I just sprayed Bugslide on my front fairing and let it soak for a minute. Then I spent a few minutes wiping the bugs off with ease.  The bugs came off easy because I routinely use Bugslide in between wet washes. BugSlide leaves a protective, microscopic finish. I quickly wiped the dust & grime off the rest of my Harley.
Best thing is, I never need to wax my Harley again! The release agent in BugSlide contains a UV filter for added protection.
When I got home my bike was very dirty from the overall ride and riding in the rain and I did a complete wet wash.  For wet washes, my #1 go-to cleaner is Bike Brite Motorcycle Spray Wash Cleaner & Degreaser.
Note: You may find Bugslide on Amazon or eBay with listings offering "free shipping". Beware, that you may save a simple buck or two, but we know for a fact you'll be waiting 10-15 days for it to arrive on your doorstep. Slow snail-like shipping is the only way that can be offered. We'll get it to you in about 3-4 days from our store!