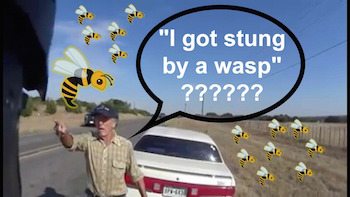 It appears the driver of a car in  Hood County, Texas near Granbury may have decided to take the law into his own hands in a possible road rage incident on Saturday October, 17, 2015.
William Crum, 68,  was being passed by Kawasaki sports bike rider Eric Sanders, 37, who had his girlfriend, Debra Thompson, 38,  as a passenger. Following Sanders was another rider with an action cam activated and it is all captured.
Sanders was passing Crum in a no-passing zone indicated by the double yellow painted center line.  As he did so Crum swerved his car left into his lane. Sanders struck the left rear of Crum's car and he and his passenger went down, sliding and rolling along the pavement.
Crum stops a distance down the road and  is confronted by the rider with the action camera going. The rider tells Crum, "you hit them" and several times Crum responds by saying, "I don't care."  Crum seems to show no concern for the injured individuals and then goes on to say, "I got stung by a wasp."
Both Sanders and his female passenger were injured. The woman injured in the wreck, Debra Thompson, was flown to Texas Health Harris Hospital Fort Worth, where she remained in intensive care Monday, said Trooper Dub Gillum, a Texas Department of Public Safety spokesman. Sanders was treated and released at the scene, but later sought medical treatment.
Sanders was cited at the scene for passing in a no-passing zone and for invalid operator's license.
Both Sanders and Thompson were wearing motorcycle helmets. A GoFundMe Page has been set up for them.
Crum was arrested and booked into jail on two counts of aggravated assault with a deadly weapon. His bail was set at $75,000 on each charge per Hood County Sheriff Roger Deeds .  Crum has a criminal record to include assault, terroristic threats, and reckless driving.
Stay tuned for a future podcast episode on this incident as we follow the story.
Car Driver Swerves/Veers Over Center Line to Purposely Hit Biker/Motorcyclist & Passenger While Passing from Scrappy on Vimeo.
Other Links: