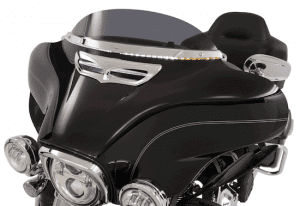 In this completely free tutorial video, we show how to properly install Ciro 3D Horizon LED Windshield Trim on your 2014 to present Harley-Davidson with a batwing fairing such as a Street Glide or Ultra.
The Ciro 3D Horizon LED Windshield Trim provides additional white LED light to the front of your Harley when running down the road and they flash amber inside to out (directional) when your signals are activated. You'll definitely be seen better by motorists with this additional front lighting and that could save your life. You can get this product in black or chrome.
This is another high-quality product by Ciro 3D and it is plug and play for a super clean installation. We'll show you what you
need to know for installation in this video and also show you how to wire additional Ciro 3D front lighting products to your
Harley.
The Ciro 3D Horizon LED Windshield Trim runs along the bottom of the windshield.
Join the Free Email Club!
If you appreciate this free information make sure to join the thousands of law abiding bikers that have already joined the free Email Club! You will be notified of new useful motorcycle content and techniques as we put them out. Join the Community now!