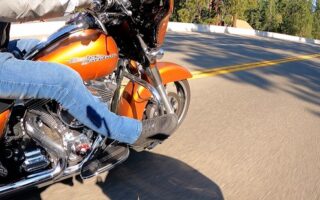 I recently installed the Ciro Twin Hingeless Clamps, Clevis with Twin Rail Footrests on my 2014 Harley-Davidson Street Glide Special. I did this prior to a 9 day, 2000 mile trip along the west coast. In this completely free video, I show you how to install these on your Harley-Davidson engine guards and you can install these on any motorcycle with a 1 1/4″ round bar.
These Ciro highway clamps and footrests setup are great for Harley's with no lower fairing and come in either chrome or black. The nice wide footrests make for superior comfort while riding long distances.
I can truly say that after riding with these on our long trip I have nothing bad to say.
If you appreciate all the free content we put out, please consider supporting us by purchasing Ciro 3D products in the Law Abiding Biker Store. Thanks in advance.
Other Info:
Ciro ratcheting peg mount assembly installed
Available in black or chrome
Twin Rail Footrest included
Mounts to any 1-1/4″ round engine guard
Not recommended for motorcycles with lower fairings
Footrest Dimensions: 4 1/2″ x 3 1/8″ length
Join the Free Email Club!
If you appreciate this free information make sure to join the thousands of law abiding bikers that have already joined the free Email Club! You will be notified of new useful motorcycle content and techniques as we put them out. Join the Community now!