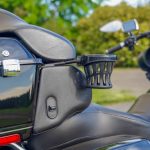 Are you looking for a well made and good looking drink holder for your Harley-Davidson or Goldwing motorcycle? Then Ciro 3D Drink Holders may be what you're looking for.
I've used many cheap drink holders on my Harley-Davidson motorcycles over the years. Many of them are flimsy and lack a solid mounting system.
When I discovered the Ciro 3D Drink Holders for Harley-Davidson and Honda Goldwings, I was instantly impressed with the quality and look. I've traveled thousands of miles cross-country on my motorcycle while using and testing Ciro 3D Drink Holders. They definitely pass the test in every way, so we put them in the Law Abiding Biker™ Store.
You can bring virtually any can, bottle, or cup with you securely on your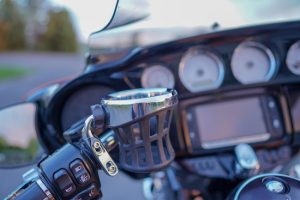 motorcycle and in style with Ciro 3D Drink Holders. You can get them in chrome or black and it's made from tough neoprene rubber. These drink holders really stand up to the elements.
Ciro 3D Drink Holders also come with rider and passenger mounting options for Harley models with trunks. The rider mount options include a perch mount system that mounts near your left or right control clusters or there is a universal round bar option. These Ciro 3D Drink Holders are very easy to install.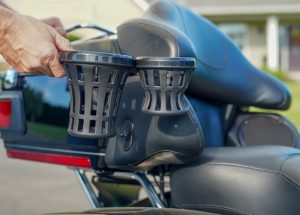 Additionally, Ciro 3D Drink Holders come in two sizes; standard size and a larger size called the "Big Ass" Drink Holder that will allow you to bring that 30 oz. tumbler on the road with you.
Join the Free Email Club!
If you appreciate this free information make sure to join the thousands of law abiding bikers that have already joined the free Email Club! You will be notified of new useful motorcycle content and techniques as we put them out. Join the Community now!
Ciro 3D Drink Holders for Harley & Goldwing
Summary
I really like the solid and well thought out mounting options for Ciro 3D Drink Holders and appreciate there are options for both rider and passenger. Both the larger "Big Ass" cup holder and the smaller standard size both held drinks well while riding my motorcycle cross-country. It's made from tough neoprene rubber. This drink holder really stands up to the elements and looks great too on the bike. This drink holder will last you a very long time.