I show you the Ciro 3D Harley Bag Blade Saddlebag LED Lights/Turn Signals, the Saddlebag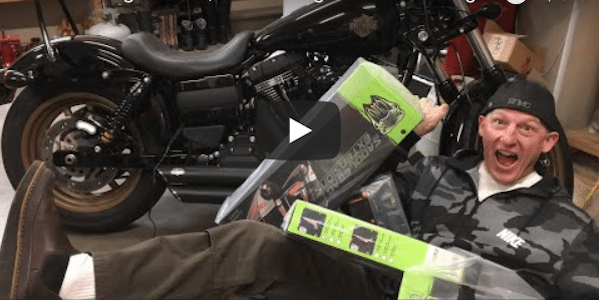 Filler Panel LED Lights/Turn Signals, Saddlebag Extension, and Fang LED Headlight Bezel.
I am going to add the Bag Blade LED Lights and Filler Panel LED LIghts to my Street Glide Special. I already installed the Ciro 3D Fang LED Turn/Brake LED Lights that convert your halogen bulb to LED with a plug and play interface!! It's really that easy to convert.
These Ciro 3D products are all high quality and plug and play for the most part. You can really light up your bike and not only make it look better but be safer going down the road. And you'll save money because you can install these awesome products yourself right in your very own shop or garage.
We love Ciro 3D products and trust them so much, we brought them right to the Law Abiding Biker Store for you! We have them ready to ship! https://shop.lawabidingbiker.com
I did a recent Podcast interview with Aero Rudd, founder & President of Ciro 3D Motorcycle Products. Make sure you check out all our awesome Law Abiding Biker Podcast Episodes.
GET CIRO 3D PRODUCTS IN OUR STORE HERE:
GET FANG LED SIGNAL/BRAKE LIGHTS HERE (FRONT AND REAR):
GET BAG BLADE LED BRAKE/TURN LIGHTS HERE:
GET SADDLEBAG FILLER PANEL LED BRAKE/TURN LIGHTS HERE (STREET GLIDE/ROAD GLIDES):
GET SADDLEBAG FILLER PANEL LED BRAKE/TURN LIGHTS HERE (ROAD KINGS AND ULTRAS):
GET SADDLEBAG EXTENSIONS HERE (CHROME OR BLACK):
GET LED HEADLIGHT BEZEL HERE (CHROME OR BLACK):
BECOME A PATRON MEMBER AND GET BENEFITS:
SUPPORT OUR MISSION TO GET THE NEW LAW ABIDING BIKER SHOP AND STUDIO BUILT, SO WE CAN BRING YOU MORE FREE VIDEOS AND PODCASTS:
Join the Free Email Club!
If you appreciate this free information make sure to join the thousands of law abiding bikers that have already joined the free Email Club! You will be notified of new useful motorcycle content and techniques as we put them out. Join the Community now!