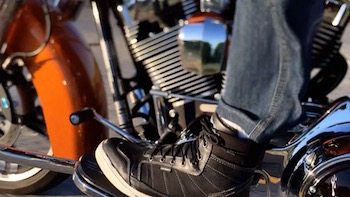 Video-Many of you Bikaholics out there wear the traditional motorcycle riding boots and I did for many years. That's until I discovered the world of motorcycle riding shoes. There's nothing wrong if you want to continue to wear your bulky, hot, and heavy motorcycle boots.
I am a progressive biker and not afraid to break away from traditional Harley-style cruiser boots. There are and array of motorcycle riding shoes out there and I plan on testing many over time. Many of them offer more protection than boots, are lighter, breath better, and in this case waterproof. I like riding shoes, because I can ride with them and then get off and have some of the comforts of a sneaker while walking around. I love the style too.
In this video, I review the Cortech Vice Waterproof (WP) Ridings Shoes. These have a great look, offer great protection, are cooler than boots, and waterproof! I tested these shoes for over 8,000 miles of riding and in rain, shine, hot temps, and cold temps.
The shoes are great while riding in the rain and kept my feet very dry! They are stiff at first while walking around, but after a couple days they break right in. In very hot weather (105 deg Fehrenheit) they are cooler than traditional boots, but your feet will still be warm. In colder temps (30 deg Fahrenheit) the shoes kept my feet pretty warm and blocked wind well.
You can expect American sizing on the Vice Riding Shoes. I ordered the same size as all my shoes and they fit great.
**Consider supporting us and purchasing Cortech Vice WP Riding Shoes or any other products through our below affiliate links. No additional cost to you and it helps us out.
Exact Product Reviewed: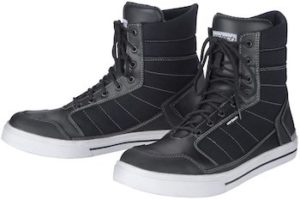 Cortech Vice Waterproof Riding Shoes
Cortech Vice WP Shoes combine water-resistant leather with heavy duty canvas to make a riding shoe that is stylish both on and off your bike. The Hipora membrane is waterproof and breathable, keeping your feet cool and dry, no matter the weather. Add to that the reflective panels on the heels and the grippy rubber sole, and you'll find the Cortech Vice Waterproof Riding Shoes will fit all your wants and needs.
Features:
Constructed with a durable combination of water resistant leather and heavy duty canvas
HiPora waterproof, breathable membrane
Italian TecnoGI Thermoplastic heel cup and toe cap
Reflective Cortech logo and heel trim for night time visibility
Anti-slip rubber sole with reinforced shank for support
Black rust-free lace eyelets
Molded nylon ankle guards
Join the Free Email Club!
If you appreciate this free information make sure to join the thousands of law abiding bikers that have already joined the free Email Club! You will be notified of new useful motorcycle content and techniques as we put them out. Join the Community now!