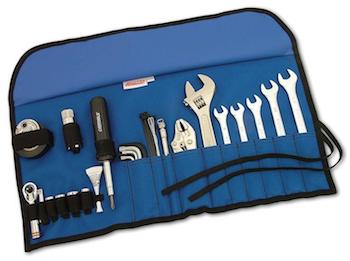 Video-If you want the most comprehensive tool kit for your Harley or American made V-Twin, then look no further than the RoadTech H3. It includes top-grade combination wrenches, an adjustable wrench, locking pliers, tire gauge, hex and star wrenches, 6-in-1 screwdriver, thread locker, mechanics wire, cable ties, spark plug socket, and more. But you'll also love the way-cool mini ratchet and socket set, making this the last tool kit you'll ever need to buy.
Includes:
3/8″, 7/16″, 1/2″, 9/16″, 10mm combination wrenches
8″ adjustable wrench
Locking pliers
5/8″ (16mm) spark plug socket
1/8″, 5/32″, 3/16″, 5/16″ hex keys
T25, T27, T40 Torx keys
6-in-1 screwdriver with bits
Mini ratchet
3/8″, 7/16″, 1/2″, 10mm socket set
2″ ratchet extension
Spark plug gap gauge
Electrical tape
Mechanics wire
Threadlocker
Tire pressure gauge
Zip ties
Roll-up polyester 3.5″ x 9.5″ case
Join the Free Email Club!
If you appreciate this free information make sure to join the thousands of law abiding bikers that have already joined the free Email Club! You will be notified of new useful motorcycle content and techniques as we put them out. Join the Community now!