Free Video By Bikers for Bikers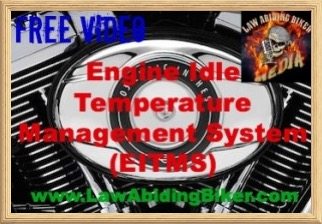 VIDEO & BLOG-Are you confused or want the real scoop on the Harley-Davidson Engine Idle Temperature Management System (EITMS). Want to know if your Harley is equipped with it? There is confusing and less than useful information out there, so we broke it down for you and made a free tutorial and explanation video. We wanted to break it down in a format that makes sense to the law abiding biker out there.
Harley Engine Idle Temperature Management System
Basics:
EITMS can be used by any rider, but is specifically for those riders who frequently find themselves in riding conditions where the vehicle is subjected to prolonged idle conditions or traffic congestion, the motorcycle is equipped with an Engine Idle Temperature Management System (EITMS) to provide limited cooling of the rear cylinder.
Explanation of EITMS in biker terms:
When engine temperature reaches a predetermined point at idle, the EITMS will turn off the rear cylinder fuel injector. Idle speed will be maintained, however the rear cylinder will become an "air pump" which will work to cool the engine. The cylinder will suck in air to cool the engine.
EITMS will activate (rear cylinder will turn off) when all of the following conditions are met:
Engine temperature exceeds 284 °F 140 °C (all except configuration J and L) or 324 °F 162 °C
Twist grip opening is at idle
Vehicle speed under 1 mph 2 km/h
Engine speed under 1200 rpm
EITMS will disable (rear cylinder will again fire) if any one of the following occurs:
Engine temperature falls below 275 °F 135 °C
Twist grip opening is above idle
Vehicle speed exceeds 2 mph 3 km/h
Engine speed exceeds 1350 rpm
Clutch is released with vehicle in gear
When the engine is in EITMS operation, you may notice a difference in idle cadence. Additionally, there may be a unique exhaust odor. These are both considered to be normal conditions.
Enabling/Disabling EITMS
Enabled: The EITMS engine cooling feature will automatically activate whenever the vehicle comes to a complete stop and is idling during elevated temperature conditions. When the feature is enabled, it may not activate under cool riding conditions.
Disabled EITMS:
The EITMS feature is not active under any conditions.
EITMS can be enabled or disabled by performing the following procedure.
Turn the ignition switch to the ON position and push the engine OFF/RUN switch on the right handlebar to the RUN position (the motorcycle may be running or not running).
Push the throttle to roll-off position and hold.
See Instrument Lamps. After approximately 3 seconds, the cruise indicator lamp will either flash green (EITMS enabled) or orange (EITMS disabled).
Harley's equipped with the Boom!™ Box Infotainment System:
If you have a 2014 or later model with the Boom!™ Box Infotainment System, you can push the "information" toggle in the right control cluster. On the Boom!™ Box screen it will show you air temperature, oil pressure, and whether the EITMS is enabled or disabled. Note: you can do it the way described above to.
NOTE:
A flashing lamp indicates the EITMS setting. A solid (non-flashing) lamp indicates the cruise control setting.
Repeat the procedure as needed to enable or disable EITMS.

If you appreciate free information and techniques like this make sure to join the thousands of law abiding bikers that have already joined the free Law Abiding Biker Podcast & Media Email Club!! You will be notified of new useful motorcycle content and techniques as we put them out. Join the Community now!