If you're considering installing an electronic fuel injection (EFI) tuner on your Harley-Davidson, Indian motorcycle, or any other motorcycle, you'll want to watch the video below. It's packed with information you should know as things have changed drastically over the past several years. (see video below)
EPA, Fines, & Lawsuits:
Recently, there have been many lawsuits between customers, the EPA, Harley-Davidson, and aftermarket exhaust and EFI tuner companies such as Vance & Hines. It all stems from the EPA cracking down hard on these companies. The EPA claimed these companies were not in EPA compliance in regards to their exhaust systems and EFI tuners.

Harley-Davidson was essentially forced by the EPA to act against its customers who came into the dealerships for certain repairs. If dealership mechanics had to connect a customer's Harley to their computer program, Digital Technician II, it would auto-detect if any aftermarket EFI tuner was on the bike. Additionally, and without dealership personnel input, it would then auto-send that information to the Harley mothership and any warranty would be voided immediately.
Harley customers were very displeased with this. However, for those who did some research, it was clear that this was forced upon Harley-Davidson by the EPA. And, this was not just the rules for Harley-Davidson, but for Indian Motorcycles, and all other motorcycle manufacturers. However, it seems Harley-Davidson & Vance & Hines were used as examples by the EPA since they are the big dogs. In my opinion, the EPA did this in hopes the smaller manufacturers and companies would take note and self-comply.
Vance & Hines Exhaust & Fuelpak 4 EFI Tuner: 👍
Vance & Hines has made big changes due to the EPA coming after them. They had to completely change their exhaust systems to be EPA compliant and many older exhaust systems have been discontinued. They also had to discontinue the production of the very popular Fuelpak 3 EFI tuner, which I have used for years on multiple bikes.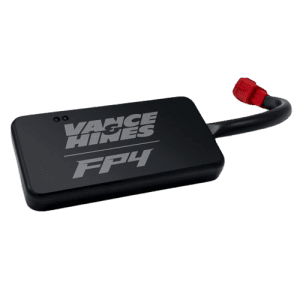 The Fuelpak 3 was a capable tuner if you were upgrading your exhaust and air intake and it was capable of tuning for many different cam upgrades. You could tune your motorcycle with a base map and then auto-tune it for optimal performance. You could even manually tune the bike if you had the expertise.

So, in the past several years, the only EFI tuner you could use on your Harley was a Screamin' Eagle (SE) Pro Street Tuner. That's because it is was the only "EPA compliant" tuner. They developed this tuner based on pressure from the EPA. This was the only EPA compliant tuner until now.
Vance & Hines has now released an alternative EPA compliant EFI tuner, the Fulepak 4. It can do all the same things as its little brother, the Fuelpak 3. The difference is that the only cams you'll be able to tune for are EPA compliant cams. And, that list of compliant cams will be added to over time within the Vance & Hines Fulepak 4 smartphone app. At the time of this article, they are supporting the Harley-Davidson 447 & 462 Screamin' Eagle EPA compliant cams. If you're just installing an intake and exhaust, certainly the Vance & Hines Fuelpak 4 is capable of that.
I'll be doing a complete install and EFI tuning video using the Fuelpak 4 in the near future, so make sure you're subscribed to the YouTube Channel so you're notified when I release new videos! This is a very capable EFI tuner and as EPA compliant cams are added, it will only get better.
Harley EFI Tuner (Screamin' Eagle Pro Street Tuner:) 👎
Based on my experience, I'd definitely use the Vance and Hines Fuelpak 4 EFI tuner rather than the Screamin' Eagle Pro Street Tuner and I'll explain why.
First, my personal experience tuning two police Harley-Davidson Electra Glides was not very good. Because Harley's Screamin' Eagle EFI tuner app is so glitchy, it made auto tuning the motorcycle very frustrating. I was finally able to tune the bikes after several attempts and then get it all uploaded into the motorcycle. I likely won't have to tune these bikes again and I don't even want to get back into the SE tuner via the app because it was such a bad experience. Just head over to the Harley Screamin' Eagle EFI tuner app for yourself and see the 2-star rating and all the negative written reviews. Also, go to the Harley SE Pro Stree Tuner product page and read the reviews. The comments are all true and you'll experience all the issues you read.
Second, if you get the Screamin' Eagle Pro Street Tuner you'll forever be stuck within the Harley-Davidson ecosystem. That means you'll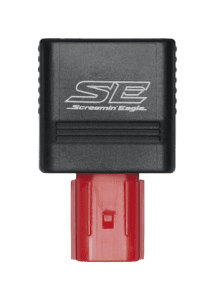 have to buy only Harley intakes, headers, pipes, cams etc. Whereas, with the Fuelpak 4, you'll have access to all of the same Harley's components along with other aftermarket exhaust, intakes, and cams. I say, keep yourself open with a Vance & Hines Fuelpak 4 from the Law Abiding Biker Store so you always have the option to install other aftermarket components and tune your motorcycle. And, the Fuelpak 4 is only $9 more than the SE tuner.
Harley can't void your warranty for installing and EPA compliant EFI tuner:
Harley-Davidson has been voiding warranties for years for the installation of aftermarket EFI tuners. That's because the Harley Screamin' Eagle (SE) Pro Street Tuner was the only available EPA-compliant tuner for some time. Remember, that's all changed with the release of the Vance & Hines Fuelpak 4 EFI Tuner.
If you read Harley's own terms of the warranty, it does not say that you can only use the SE EFI tuner. Instead, it says the warranty will only be voided if you use a non EPA compliant EFI tuner.
Now, some Harley dealerships will need to be educated by customers of their own warranty terms and that the Fuelpak 4 is in fact EPA compliant, thus it should not void any warranty. It will take time to educate dealership personnel that the SE tuner is NOT the only option anymore for tuning motorcycles while staying in EPA compliance.
Final Thoughts:
Understand, that all EFI tuner and exhaust companies have to follow the same EPA rules, and if they're not currently doing so, it's just a matter of time before the EPA cracks down on them too and they'll certainly be forced into compliance.
So, whether you agree with any of this EPA compliance stuff or not, it seems to be a reality and things are changing.
Join the Free Email Club!
If you appreciate this free information make sure to join the thousands of law abiding bikers that have already joined the free Email Club! You will be notified of new useful motorcycle content and techniques as we put them out. Join the Community now!