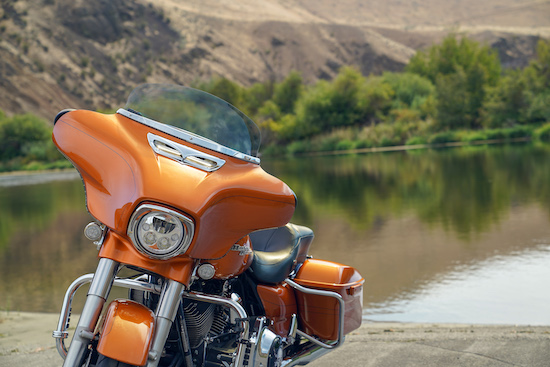 If you're looking for one of the best and most durable aftermarket windshields for your Harley-Davidson motorcycle then you'll want to check these out! It's the F4 Customs Windshield for Harley. I came across this awesome family-owned company earlier this year and it didn't take me long to fall in love with the windshield after I put it on my 2014 Harley Street Glide Special. (see video below in this article)
F4 Customs was founded in 2007 by owner Don Frank and the company is based out of Ohio. They continue to this day making windshields, not only for Harley-Davidsons but for Indian motorcycles, Honda Goldwings, Yamaha and more! These are some of the toughest most durable aftermarket windshields I've ever seen for Harley.
Owner Don Frank and his crew are actual motorcycle enthusiasts and ride often and for long distances! Thus, they understand the true needs of bikers and have listened to feedback over the years, making it the great windshield that it is today.
The Hammer & Scratch Test (see my video below)
One of F4 customs torture tests is to rub steel wool across the windshield. I actually tried this and you can see it in my video. I was amazed that the F4 Customs Windshield for Harley did not scratch! This is amazing, considering most other aftermarket windshields for Harley scratch and swirl easily and even during regular cleaning and maintenance.
Next, I took a hammer to the F4 Customs windshield. I literally hammered it 30 plus times and it would not break! Hammer marks were left where I was striking it, but they wiped right off with my glove and there were no scratches left behind! Okay, I admit, I was even skeptical the windshield could handle this, but it did! (see my video below)
The Reasons Why
The reason the F4 Customs Windshields for Harley don't scratch with the steel wool is that they have a proprietary process in which they bake in a hard coat on both the inside and outside. It's because of this process that F4 Customs stands out from the others.
Further, the reason the windshields don't shatter or break when hammering them is that they're made of polycarbonate and not acrylic, which will easily shatter. Many other Harley windshields are made of acrylic.
This baked in hard coat process also offers a rain-shedding ability and the rain blows right off the F4 Customs windshield while riding.
Understand, the F4 Customs Windshields for Harley are not scratch-proof but rather, scratch-resistant.
Optical Clarity
The F4 Customs Windshield for Harley is manufactured from the highest optical-grade polycarbonate, ensuring perfect visibility and protection. Some other aftermarket windshields have all sorts of curves and flares on them. When looking down through them at lower speeds, the road, hazards, and painted lines become visually distorted. This is not so with the F4 Customs as it's a standard windshield.
At normal road speeds, those other flared aftermarket windshields are often fine as you're likely looking over them and not through them. It's at the lower speeds and when having to look down when this visual distortion comes into play.
Wind Minimizing Ability
At the top of the F4 Customs windshield is what they call a re-curve, meaning it flips forward and up. This pops the wind right up over your head, minimizing head buffeting. The 8″ light tint version worked perfectly for me at 5′-08″ tall. I am loving it!
Cleaning & No Swirling
Amazingly, F4 Customs actually encourages you to clean your windshield with regular glass cleaner and paper towels! This is unheard of with other aftermarket windshields for Harley. Most of them strongly advise against this, stating it will leave swirl marks. The others advise you to use only micro-fiber cloths and special plastic cleaners.
I am so excited to just use regular glass cleaner and paper towels on m F4 Customs Windshield and I have done so over a period of time now. There is still zero swirling or scratching in my F4 Customs Windshield and I still cannot believe it!
F4 Customs advises to not use wax-based or oily-type polishes or cleaners as it will inhibit optical clarity and the rain-shedding ability of the windshield. It won't cause harm but may produce a light film that could be hard to remove. You should also not use micro-fiber cloths as they can retain sand or grit particles, causing damage.
Windshield Options
There are many options for you to choose from based on your needs. F4 Customs Windshields for Harley's offers a range from 4″ to 15″. You can get the 4″ to 10″ versions in light or dark tint. The 12″ and 15″ only come in clear as you'll be looking through those and not over them like the shorter versions.
Summary
Don't waste your money on a Harley-Davidson brand aftermarket windshield and pay the Harley tax. I've used many Harley-Davidson brand windshields over the years and they have all scratched and swirled from regular cleaning and use.
Get an F4 Customs Windshield for Harley instead and get to riding! No more worrying about scratches, swirl marks, or breaking with the F4. This is a rugged windshield that will last you for many years.
No more carrying special cloths and cleaners like you do for those other aftermarket windshields.
Join the Free Email Club!
If you appreciate this free information make sure to join the thousands of law abiding bikers that have already joined the free Email Club! You will be notified of new useful motorcycle content and techniques as we put them out. Join the Community now!