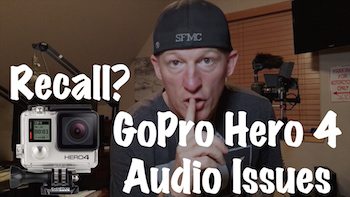 We do a ton of filming here at Law Abiding Biker Media. Of course we incorporate GoPro cameras for additional footage. I also do Moto Biker Vlogs with a GoPro on my helmet or Harley Davidson motorcycle. Many motorcycle enthusiasts and bikers use GoPro cameras or have considered purchasing one. Because of that and my recent experiences I wanted to write this article and provide a video with explanations.
I recently replaced a GoPro Hero 4 Silver that was stolen in Sturgis this years. I received that camera and I noted a problem with the audio upon playback. In the audio playback a loud helicopter, thumping, clicking, or popping noise can be heard. I began doing further testing and quickly realized this was only when recording with the WiFi activated on the GoPro. When I recorded without the WiFi on the audio was clean.
This is a fairly wide-spread problem and I believe GoPro is trying to keep it rather secret. There are many experiencing this problem and posting videos. GoPro doesn't seem to be handling it well in the way of support.
I contacted GoPro support and began a rather interesting journey. You must first provide audio samples of the problem indoors and outdoors away from electronics and WiFi routers etc with the GoPro out of any protective housings. Then GoPro support will have you send them the raw unedited video files. I uploaded the videos to YouTube, kept them unlisted, and sent links for viewing. You must also find serial numbers and purchase receipts for your GoPro and send those.
After they view the videos, realize it is a hardware issue, confirm serial numbers & confirm purchase receipts they will send a return of merchandise authorization (RMA). You can print your provided FedEx label and drop it off for return. They want the camera unit only and no accessories such as batteries or SD cards.
Then GoPro receives the camera and looks at it themselves. Finally, they ship you a new camera with battery in a plain cardboard box. This all takes much time and you can expect at least 15 days before you can expect a replacement.
Now, I received the replacement camera and it was in fact a different camera due to the different serial number. Yup, I had waited almost 20 days to get a replacement and this camera had the same exact audio helicopter thumping audio problem with WiFi activated when recording! Did GoPro not test a replacement unit for functionality before sending it?
I had to contact GoPro and send 2 urgent support emails over 3 days with no response whatsoever. And I was in the middle of some large film projects and needed the additional camera. Finally after no support response I had to call in and spent nearly 30 minutes on the phone trying to sort this mess out. Of course the support person was playing catch up.  Just after my phone call another support person finally responded via email and wanted me to do all the same tests over and go through the entire process again. Fortunately, the support person I got realized my frustration and stated I did not need to do that this time.
I requested that they thoroughly test the next replacement camera before sending it. I requested they ship a new camera immediately two-day air prior to me sending the bad one back. I did not want the faulty camera and would send it back I told them. Support stated that they could not ship a replacement camera until they had proof I dropped the faulty camera off at FedEx to be returned to them. Really, on a second back camera? I expected to be taken care of a bit better to say the least.
I received an RMA, printed the FedEx label, and immediately dropped it off. As requested I took a photograph of the FedEx receipt and emailed it to my support person immediately. I had been assured they would send a new camera upon receiving that proof.
After two days of hearing nothing I had to email the support person again and he had to back pedal a bit. Within hours of my follow-up he sent me a tracking number and stated my third replacement camera was on the way. Luckily, they did send it expedited shipping.
I receive the third GoPro several days later and tested it in the same exact environments and this one worked and had no audio problems. I have received follow-up emails from support making sure I got it.  GoPro has done nothing to apologize to me for the hassle. A simple coupon code or something to say they are sorry would have been nice. After all this and over a 30 day period and and two bad cameras. You would think they would do something to reach out and apologize.
I understand that these sorts of hardware issues can happen on electronics, but I am not impressed with how GoPro handled the situation.