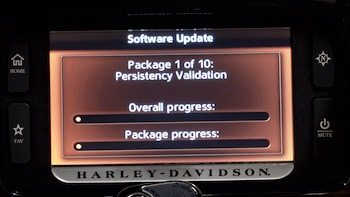 Video-Let me show you how to update your Harley-Davidson Boom Box Infotainment System software, GPS world maps, and dealer locations.
Harley Boom Box video line-up in the order you should watch!
I strongly suggest you watch our main Boom Box tutorial video first here: COMPLETE HARLEY DAVIDSON BOOM BOX INFOTAINMENT SYSTEM GPS STEREO TUTORIAL.
Law Abiding Biker™ Media brings you the most complete and thorough tutorial video on exactly how to update your Harley-Davidson Boom Box Infotainment operating system (OS) software, integrated GPS world maps, & dealership locations. All of these updates need to be done routinely, just as on any other computer or device.
You'll see video footage taken at the Harley Boom Box and desktop computer screen (capture) as to walk you through these processes each step of the way in chronological order and in a very understandable format.
I won't leave you behind or confuse you and I will get you through this in a nonstressful manner. I know how to teach bikers/motorcyclists, as I am one myself. I explain things in a common sense way that has been well received worldwide.
Although we are not sponsored by or affiliated with Harley-Davidson, I can tell you that dealership employees from around the world email us for help and support and recommend our Boom Box Tutorial Series to their customers!
I have spent much time and hours over the past years researching and testing the Boom Box system and have everything nailed down, so I can now bring it straight to you!
I provide you with the best and most direct internet website links to get you right where you need to go without wasting time searching.
Don't be intimidated by your new Harley Davidson Boom Box Infotainment GPS System and use it with confidence. Let me help you today!
After you watch this video I highly recommend watching our HARLEY-DAVIDSON RIDE PLANNER GPS MAPS BOOM BOX TUTORIAL.
Join the Free Email Club!
If you appreciate this free information make sure to join the thousands of law abiding bikers that have already joined the free Email Club! You will be notified of new useful motorcycle content and techniques as we put them out. Join the Community now!