By Bikers For Bikers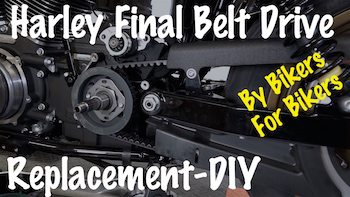 Video-In this completely free video we show you how to access your final belt drive by completely removing your inner and outer primary drive housings on a Harley-Davidson motorcycle. We then show you how to replace your final belt drive. We had a Dyna, Touring and Softail on hand to show you the slight differences.
It doesn't really matter the year and make of your Harley as this process is pretty standard. We can say that this video covers 2000 and newer Harley's and likely earlier models.
Videos of Interest (mentioned and reference in the video)


You can do this project in your very own shop or garage. No lifts, jacks, or major specialty tools are needed for this project.
So, check this free video out and save yourself a ton of money not having to take your Harley-Davidson to a dealership or mechanic. The best part is having the pure satisfaction that comes from wrenching and fixing your own Harley!
Tools & items needed: (affiliate links)
Torx head wrenches (standard sizes)
Oil for primary (30-40 oz)(replacement after removing the primary)
Appropriate gaskets & seals