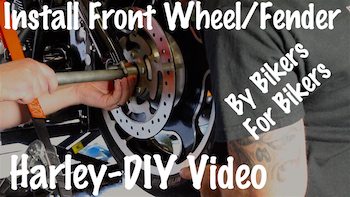 Video-In this free DIY video we show you how to install a front fender and front wheel on a Harley Davidson motorcycle. We did this because the front fender had a dent and we needed to replace it.
Save yourself a ton of money by not having to take your Harley to the dealership to have these types of projects done. You can do this right in your very own shop or garage and right on the kickstand. Plus, have the absolute satisfaction of wrenching on your own Harley!
Don't forget to check out our older front wheel and fender removal video.