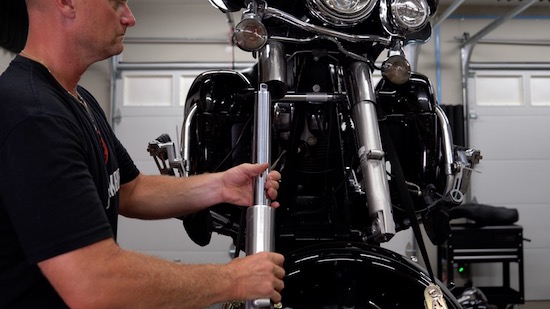 We show you how to rebuild your front forks and install aftermarket suspension on your Harley-Davidson motorcycle in this completely free tutorial video. For the most part, it doesn't matter what year or make of Harley you have as the procedures for this are all very similar. (see video below)
We show you how to remove your ignition switch, inner dash panel, and fuel tank to access the fork cap nuts. Often times you can use a fork cap nut socket to remove the fork cap nuts without having to remove the fuel tank. However, removing your fuel tank gives better access to break the nuts free and tighten them back down. You can actually use a standard box end wrench and get plenty of leverage on them with the fuel tank off.

We then show you how to remove the front forks from your Harley and rebuild them with a standard kit that many companies make. During this project, we also installed aftermarket suspension components and we walk you through that too.
We did this install on Oscar's 2013 Harley Ultra Limited with about 50k miles on it. He said the front suspension was just getting too soft for his liking so he wanted to install an aftermarket front suspension to stiffen it up a bit. And, it's always a great idea to also install a fork rebuild kit since your going to have the forks off the bike and taken apart anyways.

There is absolutely no reason to pay a dealership or shop mechanic to rebuild your Harley front forks or install front suspension components as you can do this right in your very own garage with basic tools. We show you everything you need to know in this tutorial video.
RESOURCES MENTIONED IN THIS VIDEO:
HELP SUPPORT US! JOIN THE BIKER REVOLUTION! #BikerRevolution #LawAbidingBiker
🛒SHOP IN THE LAW ABIDING BIKER STORE 🛒
😎BECOME A MEMBER AND GET BENEFITS 😎
📹GET PREMIUM MOTORCYCLE TUTORIAL VIDEOS 📹
🎬WATCH OUR MOTORCYCLE DOCUMENTARY FILMS HERE🎬
🎙CHECK OUT THE WEEKLY PODCAST 🎙
Join the Free Email Club!
If you appreciate this free information make sure to join the thousands of law abiding bikers that have already joined the free Email Club! You will be notified of new useful motorcycle content and techniques as we put them out. Join the Community now!