By Bikers for Bikers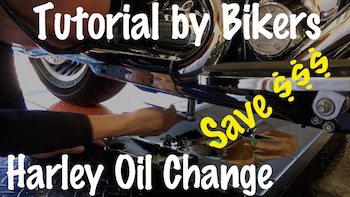 Video-We took it back old school for you here at Law Abiding Biker™ Media and with a simple handheld camera we walked you through the process of an oil/filter change on a Harley Davidson motorcycle. Of course, we have very professional videos now with proper gear and editing, but we wanted to go back to our roots and had fun doing it.
This completely free video will teach you step-by-step how to perform a routine lube, oil, and filter service on your Harley Davidson motorcycle, thus saving you a ton of money by not having to take it to the dealer or other service facility. You can do it right on the kickstand in your very own shop or garage.
We don't leave anything out and even show you the tools to use. We show you all the steps and tricks to service your Harley-Davidson. In the video we use a Haley Road King to service, but this is good for all touring models and other models. Every 5,000 miles you should perform the steps you see in this video to maintain your bike in good working order.
Support us if you appreciate this free video!
What years & makes will our premium video work for exactly?

The video is good for 88, 96, 103, & 110 CI motors & CVO models. The V-Twin motors, oil plugs, air filters, oil filters, frames, brakes, belts, levers, and other components are basically the same for these models and for many years back to the early 2000's.
Examples Touring: Road King, Street Glide, Street Glide Special, Road Glide, Road Glide Special, Electra Glide Ultra Classic, Electra Glide Ultra Classic Low, Ultra Limited, Ultra Limited Low, Street Bob, Low Rider, Fat Bob, Wide Glide, Switchback, CVO Models, Etc…..
Examples Dyna Models: Wide Glide, Street Bob, Fab Bob, Low Rider, Switchback, Etc…..
Sportsters and Softail models are only slightly different as far as oil tanks and drain plugs. You will get multiple video files and we specifically show you the differences and locations in detail on these models.
Examples Softail & Sportsters: Softail Custom, Softail Slim, Softail Night Train, Fat Boy, Fat Boy Lo, Heritage Softail Classic, Softail Deluxe, Breakout, Super Low, Iron 883, 1200 Custom, Seventy-Two, Forty-Eight, SuperLow 1200T, Etc……
If you get this video and you feel it does not pertain at all to your year or model of Harley then let us know and we will give you a full refund. Our mission here is to help bikers & that is our guarantee.
Join the Free Email Club!
If you appreciate this free information make sure to join the thousands of law abiding bikers that have already joined the free Email Club! You will be notified of new useful motorcycle content and techniques as we put them out. Join the Community now!