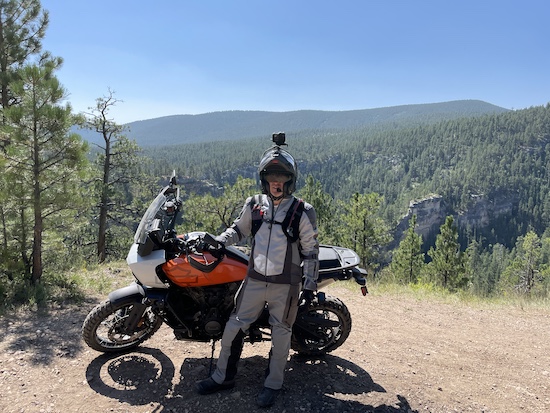 Harley-Davidson recently flew me to Sturgis to test ride and review the Pan America, their first adventure motorcycle. It was a very quick 4-day trip, 2 of those days being travel days. Understand, Harley-Davidson paid for the flights, meals, and lodging. However, no contract was mentioned or signed and I was never told what I could or could not say, so I will give you an unbiased real-world biker review as always. It's worth noting that I regularly ride street and adventure, so I was excited to test this new motorcycle. (watch the video below for a full detailed ride & review)
Listen to Law Abiding Biker Podcast Episode #274 where we interviewed Paul James, Sr. Manager of Public Relations at Harley-Davidson, and Mike Case, Group Chief Engineer for Vehicle Platforms. They get into great detail about the creation of the Pan America!
Now, I have seen many other reviews in which they place photos of large-scale jumps and other glory shots. Yah, admittedly they are catchy and get internet click-throughs. However, this is a real-world biker review, and although the Pan America can jump within certain parameters, let's call this bike what it is; It's a larger adventure "touring" motorcycle, weighing in at around 560 lbs in running order, and it's a great bike in that category for sure. If you want to go ride mostly aggressive dirt and single track, then please go get a smaller mostly off-road adventure motorcycle that is a better fit for that sort of riding. The Harley Pan America is a great bike for riding pavement, forest service roads, fire roads, some jeep trails, and open off-road areas in general.

Truth be told, when I first heard of the Harley Pan America, I was skeptical that it would compete in performance and price with the BMW 1250 GS Adventure, a main competitor. And, wow I was surprised when it not only beat the BMW in many specifications but it was priced very competitively…..Yeah, Harley released the Pan America with a big bang and I think that shocked many within the adventure touring market.
We stayed at a hotel in Deadwood City, SD, and on our first day, other YouTubers and I were driven to the Harley display in Sturgis to be assigned our Harley Pan America's that we'd be riding and reviewing for the next two days. I picked the baja orange and stonewashed white pearl model as I think it screams Harley-Davidson!
I got the Harley Pan America setup to ride for the day. It has a manually adjustable windshield, adjustable rear brake lever, 3 seat heights to choose from, each also has two height adjustments, and adjustable front brake and clutch levers. You can really dial this bike in to fit you.
We were then taken out for the day on an on and off-road guided tour by Harley representatives. We were on road about 30% of the day and off-road the remaining 70%. While off-road, we rode mostly gravel and wider dirt type roads.
My first impressions were that the new Revolution Max 1250 powerhouse of an engine does not like lower RPMs and really comes alive at around 5-6,000 RPM. That's clearly how this engine was designed for this type of riding. It revs high, has plenty of power, and delivers 150 HP and 94 ft. lbs. of torque. It feels and sounds nothing like a standard Harley V-Twin touring engine, so I won't even compare it. I got just the right amount of feedback in the foot and hand controls while riding the Pan America and it has a comfortable upright riding position.
The Harley Pan America Special model has a ton of technology and settings that I tested and go over in detail in the below video. The adaptive ride height (ARH) was amazing. This technology lowers the bike as you come to a stop and raises it when you start riding. At 5-08 with an inseam of 30″ this allowed me to be flat-footed when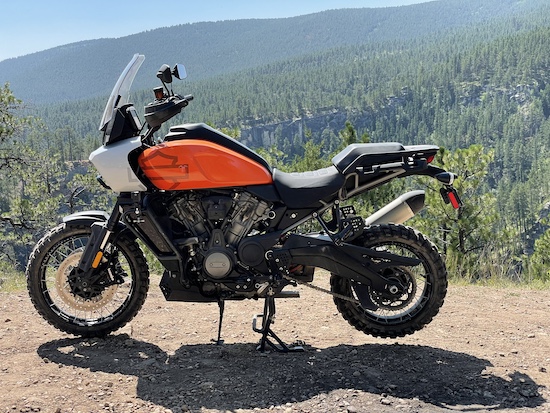 stopped, which is not the case on other adventure bikes I've been on. That alone will bring many to consider the Pan America. The ARH is seamless and you don't even know it's happening. It's worth mentioning that you can delay it or turn it off if you like.
The special model also has 5 preset ride modes, 2 custom ride modes, suspension settings, a 6.8″ touchscreen infotainment system, ABS brakes, 6 axis IMU, cornering enhanced braking, front and rear wheel lift mitigation, drag torque slip control, and more! In the off-road plus ride mode and using the traction control button you can literally turn off every safety feature and take full manual control of the motorcycle for more aggressive and technical type riding. You'll need to be in this mode to wheelie the bike over obstacles. You can change into any riding mode while riding except adventure plus and you'll need to be stopped first for that. You also have to be stopped to turn off traction control.
The Harley Pan America handled very well, both on and off-road in all ride modes and I did not have time to set and test any custom modes. While off-road and in a ride mode such as regular off-road, the motorcycle literally mitigates everything for you and instills confidence. As you come around a gravel corner you can hit the throttle and feel the tire start to slide, however, it quickly corrects and straightens the bike out. I am used to manually doing this and it took me some time for me to trust it. It was truly amazing how it makes many adjustments in real-time. Having front and rear ABS on dirt and gravel is also amazing!
The suspension on this motorcycle handled well and I hit some nastier terrain and rocks way faster than I'd be willing to on other adventure bikes. It just took the abuse and the suspension did not bottom out. I even did some smaller jumps and had both tires off the ground and the bike had a nice cushy landing! There is no need to set suspension sag on the Pan America Special as it's all electronic. The bike is literally adjusting for 30% suspension sag at all times. Yeah, throw luggage on or a passenger and it adjusts all on its own!
The touchscreen infotainment system has a 6.8″ TFT display. Via Bluetooth, you can pair your smartphone with it along with a wireless headset. The system does not have built-in GPS but you can use the Harley-Davidson app and Harley Ride Planner to navigate once your smartphone is paired. The system displays ride modes along with a plethora of information that can be customized to your liking.
Final Thoughts:
If you've ever ridden past those gravel and dirt roads and wondered where they went then you should consider the Pan America. Whether you are an experienced adventure motorcycle rider or new to riding off-road, I think this would be a great option. A newer off-road adventure rider could use the standard ride modes, instilling confidence & providing a level of safety while learning. Certainly, if a new rider wanted to progress from there they could enter more aggressive ride modes.
I truly believe Harley-Davidson has changed Sturgis forever. Prior to the Harley Pan America, the Sturgis Rally was mostly comprised of street Harley riders that were glued to riding mostly paved roads. However, there is a massive amount of gravel and dirt roads throughout the Black Hills in South Dakota that are begging to be explored by riders. I think as we move forward you'll see more Harley Pan America adventure riders at Sturgis and that will bring both worlds closer together. And, I think that's a good thing. At the end of the day, we all ride for the same reasons, both on and off-road…….to free our souls, become one with our machines, and just breathe!
Please, watch the video below for a much more detailed ride and review of the Harley Pan America!
RESOURCES MENTIONED IN THE VIDEO
😎BECOME A MEMBER AND GET BENEFITS 😎
👉 BIKER GRIPPER MOTORCYCLE CELL PHONE MOUNT
👉 BUTT BUFFER MOTORCYCLE SEAT CUSHION
👉 HARLEY RIDE PLANNER TUTORIAL VIDEO
👉 HARLEY BOOM BOX INFOTAINMENT SYSTEM TUTORIAL VIDEOS
👉 LAW-ABIDING BIKER PODCAST EPISODE #274
Title: The Harley Pan America-Guests Mike Case & Paul James of Harley-Davidson
ADVENTURE RIDING GEAR I USED DURING THIS VIDEO
If you appreciate all the free content we put out, please consider supporting us by using our affiliate links below. No additional cost to you and if you do click through and make a purchase we do get a small commission. Thanks in advance.
👉 HELMET
👉 GLOVES
👉 JACKET
J&P Cycles: N/A
👉 PANTS
J&P Cycles: N/A
👉 BOOTS
J&P Cycles: N/A
👉 BASE LAYER SHIRT
J&P Cycles: N/A
👉 BASE LAYER PANTS
J&P Cycles: N/A
HELP SUPPORT US! JOIN THE BIKER REVOLUTION! #BikerRevolution #LawAbidingBiker
🛒SHOP IN THE LAW ABIDING BIKER STORE 🛒
😎BECOME A MEMBER AND GET BENEFITS 😎
📹GET PREMIUM MOTORCYCLE TUTORIAL VIDEOS 📹
🎬WATCH OUR MOTORCYCLE DOCUMENTARY FILMS HERE🎬
🎙CHECK OUT THE WEEKLY PODCAST 🎙