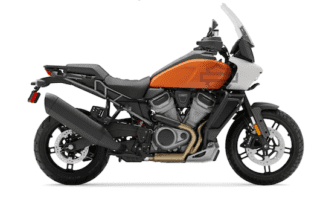 Harley-Davidson released their first adventure touring motorcycle, the Pan America, on February 22, 2021, via a scheduled YouTube video release. The video was a short documentary of sorts highlighting the history of Harley-Davidson. It then moved into the Pan America reveal but lacked overall information on what most riders want to know. So, in my video, I tell you what you actually want to know about the Harley Pan America and how it stands up to the competition in the current adventure-touring market, such as the BMW R 1250 GS Adventure, to name just one competitor. The Pan America has more horsepower, while the GS 1250 has more torque. But, both motorcycles are definitely comparable and have many options and comforts. (see my video below)
There are two models to choose from, the Pan America 1250 and Pan America 1250 special. The special model comes with additional standard equipment and some factory install options that you'll pay for at the time of purchase. You'll want to watch my video for all the specs and differences but I'll mention some of the highlights in this article. '
The Harley Pan America 1250 Special comes with Semi-Active Front and Rear Suspension with Vehicle Load Control, Tire Pressure Monitoring System (TPMS), Center Stand, Multi-Position Rear Brake Pedal, Brush Guard, Aluminum Skid Plate, Daymaker® Signature Adaptive Headlamp, Hand Wind Deflectors, Heated Hand Grips, and Steering Damper.

The factory-installed options for the Harley Pan America special model included adaptive ride height for $1,000 and tubeless laced wheels for $500. If you choose adaptive ride height, the motorcycle will lower the seat height when you come to a stop and maintains a constant, optimum suspension sag at speed by adjusting preload while continuously sensing weight inputs.
The Harley Pan America 1250 weighs 534 lbs in running order and starts at a base price of $17,320. It comes in two color options-vivid black and for and additional $250 you can get it in river rock gray.
The Pan America 1250 special weighs 559 lbs in running order and starts at a base price of $19,999. It comes in three color options-vivid black, gauntlet gray metallic for an additional $250, or the two-tone option, baja orange/stone washed white pearl for an additional $350. There are 5 pre-programmed rider modes to choose from on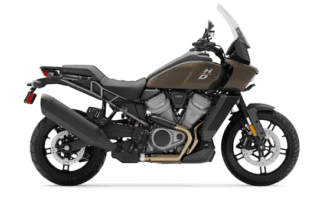 both models and the special model has 5 pre-programmed suspension settings.
Both models are coming with the Revolution Max 1250 liquid-cooled, fuel-injected, V-twin engine, which has double overhead camshafts (DOHC) that facilitate higher peak horsepower. The Revolution Max puts out 145 horsepower, 94 ft-lb of torque, and gets around 46 mpg.

The Harley Pan America is coming with a 6.8 touchscreen infotainment system, which will be compatible with wireless Bluetooth headsets. The system has plenty of gauges and built-in GPS maps and guidance.
Admittedly, I was a bit concerned that Harley-Davidson would release a sub-standard adventure bike that would be overpriced for the market, especially after we saw the release of the Livewire, their first electric motorcycle. However, I was pleasantly surprised and I can say that the Harley Pan America is definitely a competitor now in the adventure touring market, both in regards to equipment and price.
One of my only complaints is the 5.6-gallon fuel tank size on the Pan America. I wish it were bigger considering what type of motorcycle it is. As a comparison, the BMW R 1250 GS Adventure has a 7.9 gallon fuel tank. However, it's always worth noting that a larger fuel tank does equal more weight. It will often come down to where you'll be riding and how far fuel stops are in between.
Overall, well done Harley-Davidson!
Join the Free Email Club!
If you appreciate this free information make sure to join the thousands of law abiding bikers that have already joined the free Email Club! You will be notified of new useful motorcycle content and techniques as we put them out. Join the Community now!