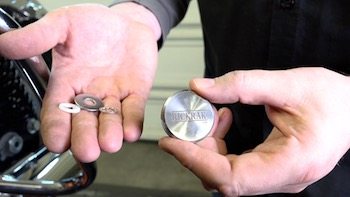 Tested by Bikers for Bikers:
Want to know what the best aftermarket saddlebag replacement safety bolts are for your Harley-Davidson touring motorcycle? We've tested several aftermarket bolts and want to share with you our #1 choice and recommendation.
You are likely aware that pre-2016 model Harley-Davidson motorcycles came with flimsy 1/4 turn pins that secure your Harley saddlebag to your motorcycle. Harley-Davidson had recalls and lawsuits reference these 1/4 turn pins over the years and bikers were actually losing their saddlebags going down the road. This is a serious hazard and not worth the risk. Harley-Davidson is not going to take care of you, so you'll have to protect yourself on this one.
There are several companies that came out with replacement safety bolts to combat this issue. We've tested a few of these aftermarket saddlebag bolt security products and found the best solution for your money.
We brought the best Harley Saddlebag Safety Bolts by Rickrak directly to the Law Abiding Biker Store and they get our stamp of approval. They are all we use on our Harley's and we immediately replace any stock 1/4 turn pins with these.
There are two Saddlebag Safety Bolts available:
We like the Rickrak Harley Saddlebag Safety Bolts better than other options out there for several reasons.
First, the Rickrak bolts are made much more solid than other saddlebag bolts. Second, they are thumb screws and don't require any special tools to remove them or install them like others. The thumb screws are very large, solid, and ridged for a super easy grip. You can have your Harley saddlebags off and back on in no time.
These Rickrak Saddlebag Bolts are very easy to install and in this video, we show you how. Once you feel the quality of these bolts in your hand, you'll realize why they are the best on the market!
Don't risk losing your Harley saddlebags and creating a hazard to yourself, other riders, and motorists. Get a set of Rickrak Saddlebag Safety Bolts now.
Be careful of all the junk and knockoffs out there on the market. Your safety is worth it.
Join the Free Email Club!
If you appreciate this free information make sure to join the thousands of law abiding bikers that have already joined the free Email Club! You will be notified of new useful motorcycle content and techniques as we put them out. Join the Community now!